starry epiphany
May 31, 2010
Wisdom is unattainable. It is glistening and in the palms of our hands, and yet not a single persons' fist can clench tight enough or quick enough to grasp before it quietly slips away, diving instantly into the cracks of pavements, the black holes in the solar system where desperate questions fester and smolder. I hurry across neat cut grass and pull myself onto the rusty trampoline of my Childhood, and I lay down and open my eyes wide and hungry and helpless--
and I wait.
And it comes, flowing from noiseless buckets of black sky, fervent specks of (unapparent) blinding light and lazy mists of clouds and the endless solitude of solar systems and mangled empty planets all jumbled in buckets of overflowing Wisdom. Men and Gods alike strain their backs against holy shovels to dig and scoop up this rich, fertile dirt from the grounds of the still night, tossing it over their shoulders in triumph and raining the people of soft twilight in wise insight and the spiraling persistence of truth, the curious musing of darkness, and I find myself lifting not a finger but instead my whole soul rising, rising right into the sky, the essence of who i am when no one
holds my hand.
I let the Wisdom surround me, let the night bleed through my every thought and every move and breath and lullaby. I soak. I soak in subtle shooting stars and gentle dying dreams. I am a sponge, a microscopic human with no knowledge of the future, of the past, of the present, of the angels that sing when the night is silent, of the demons that kill with the world is loud. And the weeping willows thrust their sad limbs toward me, pleading for all the earth to feel nothing more than the wind and despair, the night and the stars. I have no wisdom, no truth but the black Wisdom pouring down on this momentary skin, this short lived heart and these evaporating thoughts. I
am nothing.
Nothing but black sky and sparkling glitches of starry serenades of loyalty and integrity and black, undeniable love. Wisdom rests in my hand and I can feel it, feel the power and royalty and the heaviness of the stars and planets and clouds all resting on my fingertips. I sit up, pulling my limbs apart, aware of the Wisdom all about me, and I hop off the trampoline and leave. I open the back door to go back inside, and thoughts race through my system, polluting serenity and integrity and the holiness of night; and my heart beats unsteadily, the lamps in my house dull and lifeless, the whisper of people hurried and harsh. I panic, glance quickly into the palm of my hand—and
it is empty, wisdom unattainable.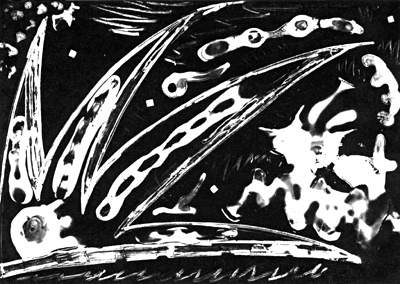 © Chelsea G.,Aberdeen, SD