Six Hundred and Seventy One Miles
June 29, 2010
"I'm not asking for much."

A tear leaks from the corner of Mother's eye. I avoid her gaze and stare at her wallet on the table instead. It is red with silver zippers, red like hugs and smiles, silver like laughter. I'd picked it out for her birthday three years ago.

"Why can't you help me?"

"I... lost track of the time." It is a sorry excuse, and I know it.

The phone rings. My eyes flicker to its flashing screen; Mother's stay trained on my face, pleading.

"Charlie?" she says. The phone beeps as the loud speaker is turned on.

From six hundred and seventy one miles away, my father's voice crackles into the room, tinny, unclear, down to business. "April, do you have the Triple A renewal code on you? The account is under your name and I can't access it."

"Yes," my mother whispers. She fumbles with the red, the silver. It falls open, displaying long receipts and smooth credit cards: American Express, platinum, BUSINESS in all capital letters.

"April?" Father falters. He is always good at sensing these things. He is also good at turning away and pretending not to see at all. "Is everything... okay?"

"Yes," Mother says again, but her voice is rising, rising from a whisper to a scream. "Yes, everything is fine like it always is, okay? Everything is fine like it has been for the past three years. The car is broken, your sister refuses to help me, but I was able to walk by myself. But I come home and..."

She stops. Her eyes snap at me. The refrigerator hums loudly next to her.

"It's 10 o' clock. Giselle has not eaten dinner yet." My mother has not included herself in the sentence.

The lights are too bright. My eyes are glued to the purse. There is a tear in the red, a dent in the tarnished silver. Three years ago, it had been brand new.

"I thought..." Mother starts again, "I thought, even if there was no one else I could rely on... If only Giselle..." She breaks off. "I'm so alone." Her voice breaks on the last word.

The refrigerator groans and quiets.

"Sorry. I'm sorry. Why don't you eat first? Both of you."

As always, my father guesses. He knows, but he doesn't do anything, can't do anything, not from so far away.

The phone is disconnected, just a simple touch of the button, and the silence stretches on for six hundred and seventy one miles.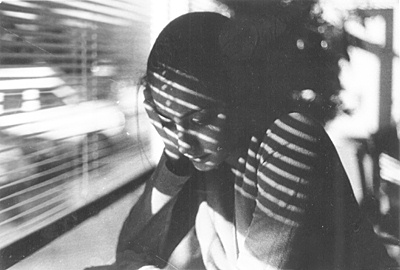 © John O., New City, NY