Born to live: Chapter one, Denial
June 22, 2010
•
Denial (this isn't happening to me!)
•
Anger (why is this happening to me?)
•
Bargaining (I promise I'll be a better person if...)
•
Depression (I don't care anymore)
•
Acceptance (I'm ready for whatever comes)
•
Numbness (mechanical functioning and social insulation)
•
Disorganization (intensely painful feelings of loss)
•
Hope (re-entry into a more 'normal' social life.)
These are the eight stages of grief, and this is my story.
The car spins, glass shatters all around me. My bones are snapping but all I can think is that that the two people I love most in this world are in the car with me and I can't see them.
We were all in the car that night, so why didn't we all die?

Three days earlier.

Chapter One: Denial

•Denial (this isn't happening to me!)
•Anger (why is this happening to me?)
•Bargaining (I promise I'll be a better person if...)
•Depression (I don't care anymore)
•Acceptance (I'm ready for whatever comes)
•Numbness (mechanical functioning and social insulation)
•Disorganization (intensely painful feelings of loss)
•Hope (re-entry into a more 'normal' social life.)
These are the eight stages of grief, and this is my story.
The car spins, glass shatters all around me. The world begins to move in slow motion, and somewhere in between the sounds of twisting metal and the harsh thrashes of whiplash, i remember two of the people i care most about are sitting right in front of me and i can't see them.
We were all in the car that night, so why didn't we all die?

Three days earlier.

Chapter One: Denial
"Haley, please get back in the car, i want to go home!" My twin sister says as we stand outside of the dance studio, I look over to her small face that was being lighten up by the night sky . My sister was beautiful, soft long blond hair that dropped to her shoulders and was a perfect match to her smooth creamy milk and honey colored skin. She had a small oval shaped face and a small button nose. Her high cheek bones sat under her huge warm brown eyes, she could pass for a model if she wasn't so short. My sister was always the one that was gunna go places in life, straight A's, never got into too much trouble and as far as my parents knew she wanted to be a doctor, but I knew her real passion was for dance. That's why we are here in Salt Lake, about forty minutes away from our home in Ogden, so my sister can work at the best dance teacher in Utah. I smile back at her and shake my head, "no you don't. You think Mom and Dad want us to come home. Now get in there you're going to be late and I already paid for parking, so go." She doesn't move despite my order, I sigh and try a different tactic. "Look hun, not many people can say they got asked to take a dance class by the best choreographers in the best studio in Utah. I'll be dammed if I let my own sister walk away from this chance. Now get in there and show them how flipping talented you are!" I put my hand on her shoulder, "I'll call Mom, and tell them I took you captive. We'll be back tomorrow and were on winter break, it's not like we'll have school the next day." Her green eyes look into mine and sparkle with excitement, and then flash a bit of guilt, "what are you and Nate gunna do for 3 hours?" She asks just trying to find away to make herself feel bad, Nate steps out of the driver's seat and comes around to us. "Hey Squirt," Nate smiles knowing how much she hates when he calls her that, "what's going on? Your gunna be late." "She thinks we'll be bored," I say shaking my head at her. "Oh no, we can find something to do easy." Nate says reassuringly, we both watch as she debates how she can protest further in her head; she pushes her lips together and finally nods. "Alright, well I'll call the minute I get out, thank you guys so much!" She says throwing her arms around both of us. "You'll do great Squirt! Go show those dance snobs up!" I chuckle at Nate, wondering how I got such a perfect boyfriends, and nod my head in agreement. She turns and walks into the studio, and just before she goes through the door she turns around and waves. I can't help but smile when I see how excited she looks. "You're a great sister you know that right Haley? It's so awesome you did this for her." I smile bigger, "Thanks, and thanks for driving us here. It means a lot." He shrugs, "No problem, I love Squirt. You know that. I'd do anything for both of you." His warm hand tangles with mine and he pulls me face to face with him, "how did I end up with such a great boyfriend?" He chuckles, "well actually, you didn't have a choice, I had to have you from the moment I saw you." He smiles devilishly and punch him playfully, "You're so weird!" I giggle before speaking again, "So you wanna go into town and maybe get some tea?" "You know me so well" Nate says smiling showing all his perfect teeth. His blond hair now covered in snow falls in front of his dark blue eyes that stare into mine like I'm the prettiest girl he has ever seen.
***

Down town Salt Lake City is a lot like downtown Ogden only like five times bigger. The golden lights sparkle against the dark blue sky, the cold breeze was all familiar, comfortable. Nate's hand twisted into mine and his warm lips on my cheek made me blush. He was perfect, and I am pretty sure I was in love with him. In the nine months we had dated I had never said it, but I was all most positive I did. "So what do you want to do first?" I ask as we sit down on a bench and he starts playing with the brown fake fur trimming my jacket's hood. He gives me the 'like you don't already know look' and I nod and smile "Of course let's go find some." Nate has an obsession with hot tea, everywhere we go he asks the server what's there favorite kind or the best one and has to try it. So far he only really liked one, and it was the one I had told him to try the day we met. He says he knew I was the one right then and there. We walk into a little corner coffee shop and go up to give our orders. The lady is pretty, very blonde hair, tiny with blues eyes, very cheerleader looking. "What can I get you guys?!" her high pitched voice rings, as she stares at Nate. I'm used to girls undressing him with their eyes, unlike Nate I don't get jealous very easily, they can look but only I can touch. That thought always calms me down, "Um what's your favorite tea here?" Nate asks politely "vanilla latté" She cocks hers head to the side and smiles. "No, ha tea, not coffee" Nate shakes his head and I stare at the menu above. "I don't like tea, hold on, TY!" She yells to one of the guys making the drinks, "Yeah?" "What's our best tea?" "Um the Chi tea here is my favorite" the peppy blonde looks back at Nate who answers, "Uh yeah that's sounds good, can I have a medium and a medium hot chocolate with whip cream and cinnamon on the top." He winks at me and I see the blond girl's smile drop. "That will be seven thirty-two please." Nate hands her a ten. "Put the rest in the tips jar" He grabs our drinks and puts his arm around my shoulder. Light snow is falling as we walk down the strip. We stop in front a very expensive looking dress shop. "Do you wanna go inside?" He asks looking at my face, his eye lashes sprinkled with little snow flakes. "Why? It's a dress shop, I don't need a dress" I laugh and look around and then back to him "actually you do," he smiles and gets down on one knee "what are you doing!" I squeak "Haley Noel Archer, will you go to prom with me?" He tries very hard to contain his laughter behind his ear to ear grin. I giggle, "You're such a jerk!" I give him a small slap on the arm, and he stands up "Aw but baby I'm your jerk" I can't help but smile as he helps me up and takes me into his arms." So that was a yes right?" I look up at him and nod, "Good, now let's go find you a dress"

I take the pile of frilly and sparkly dresses one of the employs has picked out for me, into my hands and head towards the dressing rooms where Nate is sitting in front of, "want to come in with me?" I smile "behave , were in public" he walks towards me and I raise my eye brow "like I care" I steal a quick kiss from him and head into the room.

After about fifteen dresses I'm ready to give up "Nothing looks god on me!" I yell from the fitting room. "Everything looks good on you Haley, your just picky" I hear him muffle a laugh. "I am not" I grumble. "And stubborn, Haley can you try this one on for me?" He tosses over a dress the top of the door. The dress is beautiful, a dark teal color with elaborate flower lace on the top, tight around the torso and then flows out just enough and floats just above my knees, its perfect. I step out of the dressing room "Noel, you…you look beautiful" I blush when he calls me my middle name. He holds out his hand "I can't wait till prom, may I have this dance?" I take his hand and he pulls me close, we begin to slow dance to the stores soft music. I lean my face against his chest and try to control my breathing "Nathaniel?" "Yes?" " I…I love you, you know that right?" I can feel him smile, his hand slides down to my lower back and pushes me closer, "I have known for a long time" He kisses the top of my head. I take off the dress and look at the price tag, $450.75 it reads. D*** so much for that, I walk out of the dressing room and go over to Nate who is waiting for me at the counter, "Where's the dress?" I look down "I don't have four hundred and fifty bucks on me. I'll take this though." I place a twenty dollar necklace on the counter. He narrows his eyes and shakes his head and offers to pay for the necklace but of course I refuse. Just as we walk out of the store, my sister calls. "Hey! How did it go! I ask before she even says hello, "they want me to come back! They said they can't believe I haven't had real training before! Thank you so much Haley for making me come! This was the best thing that has ever happened! They are saying they want me to audition for their company! " "Oh my god! Alright well were on our way now, I want to hear all about it! Okay alright, see you soon" "That Squirt?" "Sure was, she did great, as always." Nate nodded and looped his free fingers with mine and we walked out into the winter Utah night.

That night was spent listening to how her dance lesson went, and then listening to her re-tell it over the phone to her boyfriend back home. His name is Ryan, and she is in love with him. They spend all day together and talk on the phone for hours, they almost too cute together, but then again if you ask her about me and Nate she would say the same thing. I called Mom and told them just enough to know that we were safe and that we had to do this, and we would be home on Sunday night. Nate ordered us room service, he got a house salad and chicken, my sister got a Cesar salad with chicken and me? I got fries and a milkshake. "Squirts down" He chuckles as he pulls off his shirt; I look over to the other bed and see her sleeping face smashed into the pillow. "She had a long day, I would be tired to." I stretch out on to the bed and look up at Nate half naked. God how did I end up with that god as my boyfriend? "Wow, im really not sleepy at all" Nate stretches his arms above his head, "I could help with that" I smile, "Jude your sisters right there, ha" I roll my eyes at him "Like I care" I say as Nate does a belly flop onto the bed and somehow pulls me and himself under the covers. He wraps his arms around me and I turn around in his arms so I'm facing him. My face is pressed to his chest and my whole body longs for him, I pull up to his face and press my lips to his for as long as I can. I feel his tong slip past my lips and I shiver, and then he pulls back so I can kiss his neck and back down to his chest.
"So what is the plan for tomorrow?" He asks as he lightly pet my head. I look up at the ceiling. "Well she has dance in the morning, but I was hoping to watch her. Is that ok?" "Sure, but I might die of boredom "He chuckles "I have some things to go to early tomorrow anyway, go have fun with your sister, take her to get her nails done and all that good stuff and then we can all meet for lunch. How does that sound?" I smile big, "sounds perfect, I knew I kept you for a reason, you always have good ideas" He shifts a little "Bliss, did you know you're the most amazing girl I have ever met?" "Oh? That's cool. Did you know my heart belongs to this really wonderful guy named Nate?" We laugh lightly and he kisses the top of my head. I can hear his cell phone ring across the room. He leaps up to get it, "Hello?" He looks over at me and winks, "Um I will be right back, I'm gunna take this out in the hall." I sit up "why, who is it?" he looks at the floor and then back up to my face "It's my dad, he just wants to check in." I smile; his dad is a really cool guy, "tell him I said hi." I say and then give a big yawn. "I will, now get some rest. Squirt said he dance thing starts at seven tomorrow morning, I'll set the alarm." He smiles at me and walks out the door. I fall asleep looking at my sister.

I curl up into a ball into the middle of the dark street "NO! I LOVE YOU! YOU CAN"T LEAVE!" That's the last thing I hear in my dream before I wake up, in the hotel bed laying next to the man I adore and across from the sister I love. I sit up and try to shake off the dream and look I look at the clock; the alarm should be ringing about now, "Haley?" Nate turns over to look at me. "Are you ok?" He says in a sleepy voice, I place a gentle smile on my face "yeah I just had a bad dream." "Oh, ok" He nods and swings his legs over the bed and stands up. "I forgot to set the alarm so it's a good thing you woke up, you should wake Squirt up love. I'm gunna take a shower." I sit up and shake my head, I wish he would wrap his arms around me, and ask me what my nightmare was about. He never does though, we never talk about that kind of stuff, "Oh ok," I watch him walk into the bathroom without looking back and then get up to wake my sister up. "Hey, get up." I shake my sister gently and she rolls over and pulls her pillow over her head, "ha you have to get up, you have dance in a hour. You have to get dressed, and get breakfast, oh yeah I'm coming to watch you today!" She shoots up "really?!" I chuckle and her bed head hair and nod, "Aw thank you! You never get to see me dance, this is gunna be amazing!" She springs up out of bed and grabs her stuff out of her suitcase and starts getting dressed. I pull out a pair of jeans, a white tank top and the black sweater. I flop onto the bed and breathe into the pillow, "Haley??" I hear my sister's voice, "yeah?" She dives onto the bed right next to me, "Do you think this was the right thing to do?" without pausing I answer "I do, you got offered to take a class from the best for free, and how many people can say that the best dance studio wanted you to work with them? Not many, you couldn't just throw that opportunity away." I hear her sigh, "B-bu-but," she stammers when she has a lot on her mind. "But nothing, your sixteen, and the best dancer at our school and this is what you wanna do, right?" "Yeah, if I get into a good dance school, or do well at the audition." I sit up, "there is no doubt that you will, now come on, it's almost time to go" Nate walks out of the bathroom fully clothed and ready to go, "you guys ready?" We both hop off the bed, "Yep" "alright let's go."



******
She looks so graceful out there, it's crazy. The way her body can move in ways it shouldn't and that it can look so beautiful while doing it. I hear the dance instructors call her name several times, she's better than almost everyone here. They know it to, "Beautiful, Ms.Acher. Just beautiful," One of the younger dance scouts says her face lights up as she leaps into the air. An hour later the class is over and I go to get her stuff for her, she walks over, glowing. "That was unbelievable! I forgot how amazing watching you dance is!" I say quietly, not wanting others to hear our moment, but before I can compliment her more the scout interrupts "Ms.Acher could we talk to you for a second?" The younger guy I saw from earlier says, my sister looks at me quickly then back to him, "sure, yeah of course." She fallows him, but turns her head back to me quickly with the biggest goofy smile on her face. I laugh softly and wait for her outside. I lean up against a wall and look up at the gray clouds on the shadow like sky, I love the sky when it's like this. There is something about it that's so calming, I close my eyes until I hear the door open and my sister's excited feet step toward me. "Haley! He asked if I would be willing to fly out to California for an audition with his company! He said he can almost grantee I'll be asked to dance for them! I can't believe this is all happening!" She is talking so fast probably know one but me would understand her. She hugs me and I squeeze back tightly, "I am so proud of you! This is amazing! Mom and Dad are gunna be so happy!" I know they will be, doctor or not, they will be happy for her. They have to be. "Well, we better get on the road; Nate is waiting in the car."
The road looks almost looks like the ocean; it glistens and sways under the moon lit sky. It seems to never end. I listen to my sister in the front sit chatter on and giggle, feeling the high of her new found excitement, her light mood keeps me smiling for the whole ride and I laugh while I listen more to hers and Nate's conversations. And in the midst of their lighthearted conversation, a dark figure of a man runs in front of the car. "NATE!" I can't tell if it was me or my sister who screamed it, but Nate swerved. The front hit the metal railing and sent us spinning into the pavement ocean. Waves of glass crashed all around me, and the world fell into slow motion and turned upside down. Flashes of different dark colors thrashed in front of me and I couldn't tell if I was hearing bones break or the car. Then just as fast as the world had gone out of control, It was still.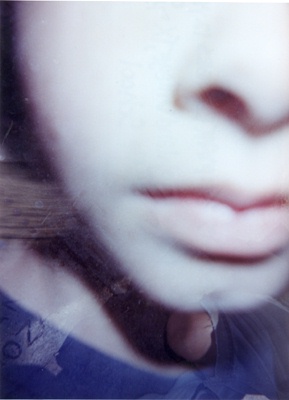 © Matt R., Highland Village, TX