Robbed My Heart
June 15, 2010
Three years. Three long years I've spent with Nathan. Three years I've spent loving and caring for a person who I thought was the only guy out there for me. Then, he robbed my heart of everything it had.

---

The morning fog lingered in the air as I walked up the hill to my high school. Nathan was supposed to accompany me, but he didn't answer his cell. He's been quiet lately. He hasn't called me just to talk in a week, let alone invite me out.

Boys. Do they know how to love? How to really treat a girl right? Maybe he'll come around.

"Hey Elizabeth!" a high-pitched voice called from behind me. It was Amber, her backpack flopped against her back as she tried to catch up with me.

"Hey Amber." I muttered.

"Are you okay? How's everything going with you and Nathan?" she asked, trying to make eye contact. Most of the time Amber could almost detect when something was going wrong.

"I don't know. He hasn't been talking to me lately." I said, opening one of the doors of the school entrance. Amber didn't reply.

Every Wednesday Amber and I studied in the music room. It was the only place the two of us could share secrets, and talk about things going on in our lives. We were a few steps from the door when I heard footsteps inside the room. Amber raced ahead of me and peeked through the small window next to the door.

"Maybe we should go somewhere else." she insisted, tugging my arm.

"No, wait! Who is it?" I frowned. I snatched away from Amber and caught a glimpse of who was inside. It was Nathan. He was making out with Jamie Mills, a senior who happened to be a little over-developed.

I could feel my face warming as the tears began running down my cheeks. It felt like Nathan cut my chest open and yanked my heart out. He did. He robbed my heart of every feeling that I could ever have for him or any other guy for that matter. Will I ever be able to love someone like I loved Nathan?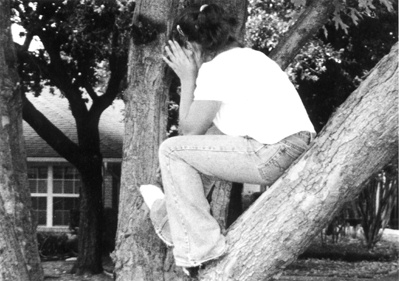 © Allyson S., Highland Village, TX