By Her Grace
June 11, 2010
Logan nervously straightened his tie and swallowed, trying to rid himself of the massive lump in his throat. Please, please don't let me mess up on this, he thought, just this once.

The people in the room suddenly began applauding. He hadn't even been paying attention to the last speech. He sent up a silent prayer, hoping she would forgive him.

The man who had made that speech was her father, he realized, and felt even worse about ignoring the speech. Her father walked past him in his Marines uniform, nodding at him on the way back to his seat by her mother. Logan sighed, looked around, and nervously stepped to the podium, feeling awkward in the dress shoes he wore instead of his usual sneakers. Not to mention the dress pants.

Upon reaching the podium, Logan set down his notecard, adjusted the microphone, and cleared his throat.

"Um, hi," he began, feeling the shakiness in his hands and hoping it wouldn't transfer to his voice, "Um, I'm Logan."

He sighed nervously, suddenly realizing how silly the speech he had prepared really sounded. In her honor, he had actually spent some time writing and memorizing it. But as much as he had wanted to do that in her memory, it just wasn't something that generally worked out for him. So, in true Logan-style, he decided to completely wing the whole thing and pray for the best.

"So," he began again, still a little uncertain, "You all probably don't really know me. Unless you saw my name in the paper awhile ago. But that's not something I really want people to know me for. Anyway," he paused for a moment, "Until about fifteen seconds ago, I was going to stand up here and say my piece about how awesome she was. But I think you all probably got that by now. You've known her a lot longer than me. So... I guess I thought I'd just tell you what she meant to me."

He paused again, trying to decide where to start. The beginning, Einstein, he told himself. "I think we met sometime in middle school, but I didn't' really know her. Just knew who she was back then, and that was it.

"At the end of eighth grade, my dad passed, and Mom and I started moving around a lot while she looked for work. Eventually we ended up moving back here, but things weren't really the same anymore. By then I had kinda fallen in with the wrong crowd, and besides that Mom's new boyfriend wasn't exactly the nicest guy around. I guess I wasn't expecting much when we came back. Another move maybe, I dunno."

Logan cleared his throat again and glanced around. Nobody's expression gave anything away. He glanced down, and saw that his knuckles were white; he was gripping the podium so hard.

"But then I got to know her. A week into classes, we got paired up for our weekly out-of-class experiments in science. Then, I didn't really care who I got paired with, because I didn't know anyone in that class at all. But I think getting paired with her was the best thing that ever happened to me."

He took another pause to steady himself. It was getting harder to relive. He swallowed, and continued.

"We had to meet outside of school a lot for our projects. That's where we really got to know each other, I guess.

"She was a lot different than I thought she would be. Smart, funny, practical...and always ready to reach out and lend a hand to people. At first we kept our distance. I was definitely not the kind of person she normally hung out with. But somehow we got to be friends. Or at least friendly."

He shifted nervously again. The best days of his life would be hardest to relive, especially when they were so close to the worst.

"There was one day right after we finished one of the worst experiments we had ever been given when she decided that we should go for ice cream. While we were walking back, she gave me a weird look. I asked her about it, and then she told me she was just wondering where I had been last year.

"I don't know why, but I told her. Everything. Every last ugly detail. And she just sat and listened until I finished. Then she told me that even if no one else would be, she would be my friend."

He paused once more, blinking a tear from his eye. "We started hanging out more after that. Mostly at her house. I didn't want to have her that close to the stuff that happened at my house.

"But her mom didn't want me that close to her little brother, Nate. She knew this, but she kept her promise to me. So she started pushing me away from all the bad stuff going on in my life. I'll never be able to thank her enough for that.

"But as much as I wanted to leave it all behind, I couldn't really just drop it all that quick. I guess she got sick of it, though, because she made me promise the next time I felt like getting in to drugs or something, or if home got bad, I would come to her instead.

"So I did. I didn't really know what to expect. It was already about dinner time, so I knew her mom would be pissed. But I didn't know what else to do. And I just showed up on her front porch, hoping for a miracle or something.

"When she opened the door, she just looked at me for a second, and then asked if I needed a place to stay that night. I hadn't thought that far ahead, but I said yes anyway. Then her mom walked over and asked what was going on. I'll never forget that death glare. But she just took her mom aside and when she came back they let me inside. I still don't know what she said that day, but I do know that was the best lasagna I've ever had."

He stopped again to wipe away a few more tears. And the worst was yet to come.

"That night and the next morning, I remembered what family was. A good meal, an old movie, a warm bed, an awesome little sibling to play with, and people who care."

Logan coughed and swallowed. He chanced a look at all the people assembled. They shared his tears, or at least some of them, and he felt less self conscious.

"So life was bearable for awhile, until...that night," he continued, trying to steady himself, "There was something big going down with the people I had been trying to avoid since I met her. I decided that that was going to be the night I told them I was finished with them and their lifestyle.

"She wanted to hang out that night, but I told her I was busy. I'm not sure how, but she guessed close to what was actually going on and begged me not to go. And I told her not to worry.

"But apparently she did worry, because she found me where I was supposed to meet everyone. I don't know how she found me, either. But she did. And I told her to go home, because those people were dangerous, and she said she wasn't going anywhere without me.

"Then the guys showed up. I don't really remember what all we said to each other, something about how I had betrayed them, I think, but eventually one of them got pissed off and pulled a gun.

"I remember feeling her push me, and a second later I heard the shot and saw her fall. They all turned and ran. They knew there would be trouble if a smart girl like her got hurt.

"I ran over to her, and begged her to stay alive. I asked her why...why she had bothered to save me. And she said, 'Because I have a feeling that's why God put me here. To help you get back on your feet. So promise me, promise that you'll take your second chance. And look out for Nate, too.' And all I could do was agree and try to stop the bleeding.

He swallowed once more, but he knew by then the lump in his throat wasn't going anywhere.

"I heard the sirens, watched them load her into an ambulance, but it was too late."

The tears flowed freely now, and he made no effort to stop them. Neither did anyone else that he could see.

"So, I guess where I'm going with this is still how awesome Grace was. She meant the world to me. She gave me my life back. I'm just sorry she's not here to see it play out."

Logan stepped back to his bench and sat. People politely clapped, but her best friend threw her arms around him in a teary embrace. Her other friends all joined in, along with Nate.

Later, as he walked out of the church, he was still thinking of her. He had been doing little else lately. He wasn't quite mourning, but instead thanking her for what she had given him. And then, he could have sworn that he felt a familiar hand on his shoulder. He smiled, and began the walk home.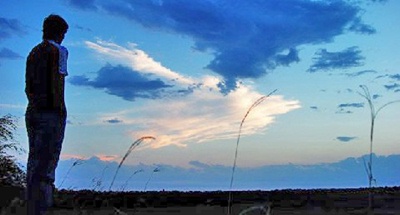 © Stefanie K., Katy, TX