Monster vs Monster
June 11, 2010
I look down at my jeans. I look up at my teacher. He throws me a look of discontent. I put my back pack on the desk beside me. His eyes squint and the beady eyes of the premature balding limp in front walks to his desk phone.

"Is there a problem Mr.Norman?" I asked with a smirk on my face.

"The problem is your jeans Mr. Piordez. It is strictly dress code." He yells to me then mutters into the phone. I put on my backpack and walk to the door. "Office Mr.Piordez." Great finish baldie. I knew it already.

I walked down the hall and pulled the earphone into my ear. As I walked down the stairs, I saw the angel. I don't know her name, but that girl would make anyone fall in love with that beautiful friendly smile she gives me. She sees me and smiles.

My Heart Dropped.

"Hi." Was all I could say.

"Hey." She's being friendly. Audio slave's "Be Yourself" playing in my ear. I cant be myself. I cant even love.

I keep walking on to the office and pull my bud out. I look around the office and sit in a chair. The cat lady walks out and motions to come in her office. I walk in and show off my jeans and she scrunches her eyes and sighs.

"Danny you can go." She shakes her head.

"Told you." I muttered.

"Yeah, well I'll talk with him don't worry." She picked up her phone and I sat down to listen. She looked at me and I started to put my backpack on again. She shook her head and motioned me to stay. I smiled and took a peppermint candy to suck on.

"Yes, Mr.Norman I don't see the big deal with his jeans." She rolls her eyes. "It one little tear. It's not ripped." She shakes her said some more. "This is the 4th time you've sent him this week. He's not really in any serious trouble."

I get up and head out. I wave to her and walk back into the hall. I walked up the tairs slowly and creeped inside the class. Baldie didn't notice, so I danced in the front. The class laughed and I quickly dropped my backpack. I pick up things like if they laughed because I am just an oaf who dropped his backpack.

He turns around and hangs up the phone. I stand, He sits. I look up and he stares up at me. "Precious and fragile things. Need special handling. My God what have we done to you -oohh?" I sang.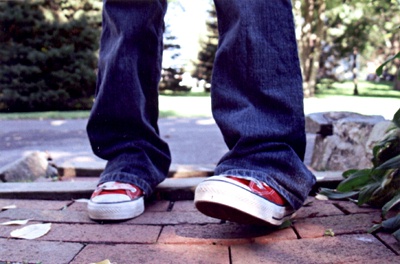 © Sara M., Milford, CT