Death Undeserved
June 5, 2010
Slowly, I sat down on the cold snow in a cross-legged position, and I could immediately feel my jeans become slightly damp from doing so. The air bit at my nose as I stared at the tombstone in front of me. It was no different than any other in this dull cemetery. It was a typical tombstone in my eyes, boring grey with the rounded top. Engraved in the center of it, though, were the words I never thought I'd see.
<center>December 16, 1992 – December 17, 2008
Bradley James Davis-Matthews
Gone, but never forgotten</center>

Covered in snow, a golden picture frame sat near the foot of the tombstone. I brushed it off, revealing the most beautiful face I had ever, or will ever, see. Messy jet black hair covered a smooth pale forehead and eyebrows to match. He looked at the photographer through those flawless blue eyes, the smile on his perfect lips reflecting in his eyes. You could slide down his nose, which was completely blemish free, and land right onto those lips I longed to kiss once again. His skin was tan, beautiful, and looked ever so soft, even through the cracked glass.

"Hello," I whispered, surprised to hear that the word actually came from my lips. I blinked back the tears I promised myself I wouldn't cry anymore and looked away at the mausoleum. "It's me again… you know, Laura.

"It's been a year since I last saw you… one year today. I'm surprised nobody else is here. Well, maybe not, seeing as nobody else really knew you. Regardless, this place hasn't been the same since you left; I haven't been the same. Your parents moved away three days ago… guess they didn't have any reason to stay. Not anymore, at least.

"Brad, I don't know who I am without you," I said, letting the tears spill out. "I can't seem to find another friend like you in this place. Oh, gosh, I'm a right mess now. I promised myself, swore to myself, that I wouldn't cry anymore. You must think I'm pathetic. I haven't got anybody else to talk to, though. I never did…. Right, well, I think I ought to tell you some things. Just don't laugh, okay? I'm not even sure if you can hear me from Heaven, but if you can, which I hope you can, don't laugh."

I stared at the thin blades of grass that poked out of the snow, waiting until I was sure that I could say what I'd always wanted him to know. "I'm sorry. This isn't easy for me to say, never was. It's just… I loved you, Brad, and I still do. I suppose I always will. I wanted to tell you way back when we were thirteen, for that was when I knew. You were with Veronica, though, and she was really a fan of you. She always smiled when you came 'round, but you never felt the same towards her. 'She's a right ol' bloke to think that this will last forever. I'm only thirteen,' you had said, 'and I'm sure not going to fall in love with someone from Augusta. No, I don't want any native Maine-ian or whatever you want to call yourselves. I'm leaving this place the second I graduate and going back to London. I'll fancy me a girl out there.'

"I suppose it didn't matter that you were with Veronica, seeing as you didn't even want me when you weren't going out with anyone. That's what I thought for years until that one day you had a little much to drink. I don't know why you were drinking; we were only fifteen. However, you always drank, and I guess you don't need a real reason as to why you did it. Anyways… you had been drinking, and you snuck in through the little window in my basement bedroom. I remember you fell, face first, onto the concrete floor over there. Scared the hell out of me, you did. I threw down my book and raced over to your side, panicking. But you just stood up and looked me square in the eyes, blood trickling down the side of your face from your brow. Then, you kissed me. I remember the way your fingers grazed my cheeks and tangled themselves into my hair. Yes, of course I remember, for that was my very first kiss. I reckon it'll be my last at that."

I stared at his picture as snow began to fall from the sky once again. It was getting dark, the sun quickly disappearing into the horizon. I was the only person in the cemetery, and it looked like it'd stay that way. I shoved my hand into the pocket of my soft, black winter coat and pulled out a newspaper clipping. I read it aloud to the picture of Brad, just like I had at his funeral.
<center><big>Sixteen Year Old Male Found Dead In Augusta</center></big>

Just last night, the Augusta police found young Bradley Davis-Matthews dead near the local Giant Eagle. Having received the call from 23-year-old Macy Lewis, the police arrived when he was already dead. Macy, however, had witnessed the tragedy.

"He was getting into his car, a BMW I think," Macy told Observer Reporter, "when he saw me. The boy was glaring at me, and then he stomped right over to me. 'Did you do this?' he asked, pointing at his car. Obviously, I had no idea who he was or what he was talking about until he dragged me over to his car and showed me the mangled steering wheel. It had been ripped in several places, and there was a huge gash across where you would beep the horn.

"After convincing him I hadn't, I walked closer to the store. He was dialing some number on his cell phone, and I heard him say something about the person not answering. Then, I heard him scream. When I turned around, there was a man, or maybe it was a woman, I couldn't tell, holding a knife to his throat. He looked at me with these big eyes as he said something I couldn't hear. The person didn't like that at all, for they slit his throat just a tiny bit… as if to tease him. He didn't scream; he didn't make another noise. He simply shook his head, and then he was stabbed right in the chest. The person left the knife in him and ran off, oblivious of my presence."

Police found Bradley with said knife still in his chest and Macy Lewis sitting near him, drenched in his blood. After rushing him to the ER, Bradley was pronounced dead. It is estimated that he died about twenty minutes after the knife was plunged into his chest. Police are still looking for the culprit, but they have discovered several leads. Macy Lewis is no longer a suspect.

"Mom said to leave this here now," I whispered, folding up the paper and wedging it into the corner of Brad's grave. "She also said I had to be home by supper, so I haven't got much longer to stick around. I just… I want you to know that I really do love you, and I really miss you. Life hasn't gotten back to normal yet, although I don't think it ever will. God, here come the tears again…. It's not right, Brad, that you're not here and that stupid murder is. They'll find him someday, Brad; they have to. I can't believe the world is so screwed up that one person can really kill another. I've got to go now, but just remember that I love you. I'll always love you."

Brushing the new fallen snow off of both the picture frame and the tombstone, I stood up. I wiped the incessant tears from under my eyes and attempted to steady my breathing. Suddenly, I felt a hand on my shoulder. I snapped around, looking into the eyes of a red-headed freckled boy a year older than I.

"Sorry, did I scare you?" Craig asked, returning my gaze with sympathetic green eyes. His hair was sticking out from underneath a grey knit hat. The tip of his pale nose was bright red from the cold air.

I shook my head, looking down at my plain black high heels. They had looked so lovely when I first put them on this morning. Now, however, they just looked dull, unnecessary, and only reminded me of the loss this town had faced when Brad died. They were the same pair of shoes I had worn when we went as friends to homecoming together freshman year, the same pair that I had been wearing when he stumbled through my window, and the same pair that I wore to his funeral. It only made sense to wear them now as I finally, finally confessed my feelings.

"I wasn't eavesdropping," Craig clarified, "but I heard everything."

"I just thought he should know," I whispered, gesturing towards Brad's tombstone. "I think he always did know, though."

I was completely surprised when Craig shook his head, a remorseful look coming over his face. His thin lips pulled down in a frown as he spoke. "Brad never knew, never even had the slightest clue. He was the only one…"

Tears spilled out of my eyes, rolling quickly down my cheeks. I watched one fall gently onto the tip of my shoe, slide down, and land onto the snow without leaving any mark. "I wish I would've told him sooner. He was everything to me, and although that sounds terribly cliché, it's true. I barely remember the Laura Ferris I was before him."

Craig pulled me swiftly into a bear hug, and I buried my face into his warm chest. He was wearing a scarf, a long grey wool one, which he handed to me to wipe my tears. "I know," Craig's voice whispered into my ear. "He changed this whole damn town. It sucks that he's gone, and it sucks that you and I are the only ones who are taking notice. You know it would destroy Brad to see you like this, though, Laura. I don't expect you to stop crying right now, but your mom told me when I stopped by that…"

"You s-s-stopped by?" I asked, sniffling. I looked up at Craig, but he was staring into the distance behind me – glaring actually.

"Yes," he said simply, "and she told me that you have been crying every night in your room. That's messed up, Laura, and it would kill Brad to know that."

At the word "kill," I completely lost it. I couldn't help myself. I tightened my grip on Craig so much that it's a wonder he was still standing and started crying my eyes out. "No, what's messed up is that we're still here and he isn't."

Craig didn't say anything for a long time; as a matter of fact, he didn't say anything for the rest of that day. He held me in his arms for a while, probably until I had steadied myself enough to walk. Then, he took me under his right arm and walked me back to my house, getting splattered with brown slush as a car drove by. He didn't mind that, even though it was all over his nicest pair of jeans, his only actual pair of nice jeans. More than likely, the only thing he cared about was going back to the cemetery, back to his best friend's grave.

Anybody who knew Brad as well as the two of us had would feel the same way. He was a little more than a troubled kid, having gotten into drinking around age eleven, but he always meant well. If he saw that somebody was the slightest bit upset, he'd stick around long enough to console them, even if it meant being grounded when he arrived home. With looks like an angel and a personality to match, it's no wonder I fell in love with him so young. It makes me wonder, though, how things had gone so wrong with him so quickly.

More than anything, I wonder what kind of person could have killed him. My broken heart screams that this person had to be Satan himself, but my brain is a little slower. Brad taught me to see the best in every single person, for that's what he always managed to do. I wonder if he was able to see some light in the person who killed him and how he would feel to know that I can't imagine anything good about a murderer. Somebody stabbed Brad, Craig's best friend and the boy I love, and then ran away, never owning up to their actions.

Yes, this person could have had straight A's in high school, matriculated at Harvard University, married a divine lawyer, lived in a mansion overlooking the city, and volunteered at the humane society every weekend. However, in the end, none of that matters. This person committed a murder. I know, though, that there will always be one person who argues he or she shouldn't be seen only as a murderer, and I know that this person will only see Brad as a victim. This world is two-dimensional.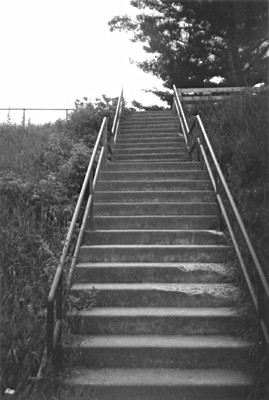 © Eva A., Eagle River, WI