Wait Chapter Two: A Chance to Think
May 28, 2010
Mandy woke up with fear pumping through her veins. Her heart was racing so fast her chest felt like it was going to explode. She quickly grabbed her dream journal and pen. She had started the journal after she had started to have strange dreams she couldn't explain. She flipped open to a new page. It helped so she wouldn't be able to forget anything that happened. She took a deep breath and began to write.
"January 18th, 2009


Weird Dream #14
Uncle Jack and Uncle Chris were standing in a dark room. The only light was coming from the moon, streaming through the lone window facing the street. They were talking to themselves and an unknown man, roughly the age of 26. Uncle Jack was holding a shotgun. 'This is a really nice gun, Mark,' Jack told the unknown man. The unknown man, who had been standing in the dark, walked into the light from the window. It was my father. 'I know,' he replied. 'It's amazing for hunting and gives good aim. It is the best gun you will ever see in your lifetime.' 'You couldn't be more right,' Chris said. 'So how does the gun load and fire anyway?' Jack asked. 'You load the bullet in the slot closest to the handle. You got to make sure that when you slide the cover shut, you hear a click. That means the bullet is in the chamber. Then you put your finger on the trigger, aim, and fire. Simple as that.' 'You mean like this?' Jack asked as he slid the bullet cover shut and heard a click. 'Exactly like that," Mark replied. Jack put his finger on the trigger while Chris held the end of the barrel toward the window. Then Jack's finger slipped and pushed on the trigger. The gun went off. Jack and Chris looked in horror as they watched Mark fall to the ground, shaking with extreme pain. Both dropped the gun. It didn't go off again. Both ran over to their brother. 'Mark. Mark!' they shouted, trying to figure out if he was conscious. They then looked at his chest and watched as a dark red stain began to soak up his shirt, right above his heart. 'NO!' they both cried out. 'Mark, we are so sorry. You'll be okay. We promise.' Jack called 911 and talked to the operator as Chris tried to help save Mark. Mark's eyes fluttered open. 'Tell the people that I accidentally shot myself with my gun. It was an accident and you had only come in after you heard the shot.' 'No, Mark. This is our fault. We'll take the blame for this,' Chris said. 'No. This was my fault. I didn't realize the gun had a bullet in it,' Mark replied. 'Take care of Mandy for me. She needs you.' Mark's eyes shut. Just then, the paramedics came through the door. Both men stepped back to let the medics do their job. They quickly got him on a stretcher and pushed him out the door. A police officer talked to Jack and Chris. Respecting his brother's wishes, Chris said that he had accidentally shot himself and they had come in to find him on the ground. Then, they got a phone call later. It was saying Mark had died. The brothers said thanks and hung up. Both were crying. They left to come pick me up from daycare. Then the dream went to a funeral. A pastor said a few words. Chris was holding me. Both of my uncles were in black suits. I was in a little black dress with a matching black hat. Chris got up and walked over to the casket. His tears fell on my dress as he leaned over. I dropped a red rose onto the top. Then I woke up." Mandy finished the entry and put the journal back into the side table's drawer. She sat up and began to think. "What was that about?" she asked herself. She then decided to forget the dream and get on with her day.

Mandy walked out of her room after her shower to find the apartment quiet. She then remembered that her uncles went to work early on Thursdays. She poured herself a bowl of Honey Nut Cheerios and sat down in front of the TV in the living room. She prayed and turned on the TV to the movie, True Confessions of a Hollywood Starlet. She loved the movie and never seemed to get bored of watching it. When the movie went to commercial, she put her bowl and spoon in the dishwasher. She decided to get her song journal and write during commercials to keep her busy. She grabbed a pencil and sat down in front of the TV. She had already finished her last song. She needed something to write about. She remembered her dream and decided to write a song about her dad. She decided to title it Never Forget You. She wrote down the lyrics quickly. Then the movie came back on. During the next commercial, she read the lyrics back to herself.

Never Forget You

Verse One

Times change, people grow up
But you're still hear with me
Even if things feel so different
I'll miss you for the rest of my days
Because you've touched me so much
The past is gone, the present is now
The future will come
But there's one thing that will never change

Chorus

I'll always remember you
The good times, also the bad
I can never go a day
Without a memory of times we had together
That are now spent apart
Those are the times that just thinking about them
Makes me cry
The one thing I'll do is to
Never forget you

Verse Two

I never felt I got to truly say goodbye
Every time I cry
I hear your voice inside my head
Reassuring me that
You're never too far away
That will never change
Not in a million years
Because here's what brings me joy

Chorus

I'll always remember you
The good times, also the bad
I can never go a day
Without a memory of times we had together
That are now spent apart
Those are the times that just thinking about them
Makes me cry
The one thing I'll do is to
Never forget you

Bridge

Walking alone down the wet path
Of tears I cried for you
I looked up and saw you walking toward me
You gave me the hug
I so desperately wanted
Comfort flowed from your arms

Chorus

I'll always remember you
The good times, also the bad
I can never go a day
Without a memory of times we had together
That are now spent apart
Those are the times that just thinking about them
Makes me cry
The one thing I'll do is to
Never forget you


Mandy looked at the lyrics and determined that they were good enough to keep. She was able to put the song journal back before the movie came back on. When the movie was over, Mandy got up and went into her room. She grabbed her acoustic guitar and wrote the chords and beats down. She was a quick song writer, which was something she was proud of. Getting bored, she decided to call and see if Jeremy and Alex could come over. Maybe they would be able to explain some of her dream to her.
"Ok. That's really creepy," Alex told Mandy as she paced the room. "I mean, I don't know what to think. That seems like a weird dream to have randomly. Especially when it involves your dad's death." "What do you think, Jeremy?" Mandy asked her boyfriend, who was sitting at her desk. "I agree with Alex. It's kind of random to have a dream about your dad's death so vividly." "I know. It seemed weird. Especially because it concerned something about my dad's death and my uncles. Was I being told something and I just don't know it? Or is it just a scary, random dream?" Mandy asked. "It just doesn't make sense." Jeremy looked at Mandy. "Here's what I think," he said. "I think that dream means something. The way you described it, it probably has to do with your father's death. What if your dream is about how your father died? What if your uncles did accidentally shoot your dad and he told them to say that he had accidentally shot himself? You told me a while ago that you don't know much about your father's death except that he had accidentally shot himself in the heart and died. This could be what had actually happened. Something your uncles wanted to keep from you. I mean, you were in the dream after all." "But why would my uncles not tell me that?" Mandy wondered. "Probably because they thought you would be upset and mad at them," Alex suggested. "Your dad told them to lie about what had happened in the dream. He told them that you need them. No matter what, your dad wanted you with your uncles. They might have wanted to protect you from the truth." "I still don't believe my uncles would do that to me," Mandy said. "It could be a random dream. Or it could be something you remembered subconsciously," Alex said. "Well, I do remember that part of the funeral in my dream. I remember that black dress and hat. I still have it. I was never able to let go of them," Mandy told her friends. "Whether or not that dream is real, it is scary," Alex said. "We'd better get going to the retirement home," Jeremy said. "Yeah," Mandy replied, trying to change the subject. "Let's go cheer up the elderly!" "Yeah!" Jeremy and Alex cheered.
Mandy got back from the retirement home before her uncles did. She was tired and needed sleep. It was a good thing she had dinner with Ellen at the retirement home. She couldn't believe that her uncles would lie to her like that. But doubt crept into her thoughts. "They could be lying. That dream could be the truth," Mandy thought. She decided that she needed to forget the dream and the thought that her uncles could be lying to her. She fell fast asleep.
Jack unlocked the door to the apartment and stepped inside, his brother closing the door behind them. "Let's go check on Mandy," Chris suggested. They walked into her room to find her breathing steady and calm. Jack noticed an open journal on her night stand. He picked it up after he saw his name. He read the latest entry. He closed the journal and put it back on the night stand. "She knows about her father's death," Jack told his brother. "How could she? We never told her," Chris replied. "It was just a dream, Jack. She doesn't know for sure." "When are we going to tell her?" Jack asked. "When the time comes, Jack. When the time comes," Chris replied. Both went off to their own bedrooms and fell asleep.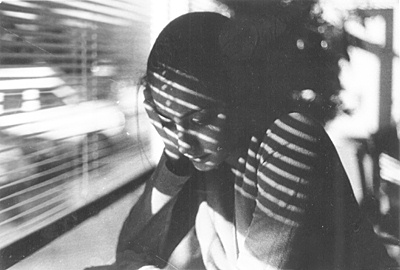 © John O., New City, NY