Crossing the Line
May 25, 2010
I'd been nervous for this day since the call came last Friday night. Now, as I rode the number seven bus to Riverdale high school, I was more nervous then ever. The noise level was a low murmur, down from its dull roar. It was probably due to the many students whose parents were too afraid to let them come to school today.
As we neared the school, the whole bus got quiet. It seemed they were waiting for us. When we got to the light a block from the school, you could hear their voices rising over traffic. A few kids "seat hopped" their way up front, to be the first to catch a glimpse of them.
We turned the final corner and there they were, marching in a circle around the front sign that said "Riverdale High School" with their picket signs that read "Higher wages for teachers!" I didn't know all of them, but those that I did horrified me. I hadn't thought it would come to this. But, right there she was, Mrs. Kelvin, my favorite science teacher, standing in the front, yelling.
I couldn't help the feeling of abandonment. I had kind parents and an aggravating little sister that could be annoying at times. My life was good. It wasn't as bad as some of the other students in my district, the ones with only one parent or none at all. But my teacher was acting crazy.
I realize that a teacher's first duty is to their families. But after all the days she would stay after school to help me when I didn't understand. I felt I was part of her family too. She had even been over to my house for dinner once.
When they held us outside the school doors, I knew she couldn't see my face in the crowd of children. If she did, I'm sure she wouldn't have kept us, or me, waiting. Would she?
They must've gotten some thrill out of it. It must be exhilarating to stand around shouting for something you believe in. To "go against the man" as she had once told us, though I can't remember what it had to do with science.
After that day, things went back to normal. The school officials gave in. I'm sure I wasn't the only one who felt uncomfortable in her class the next day. I would never forget that look on her face, the look of defiance and rebellion. When I became an adult, I promised to myself never to cross that line, the line that so many crossed that day, and an excess of people cross everyday. If only people didn't cross that line. What would life be like, if there was no line to cross?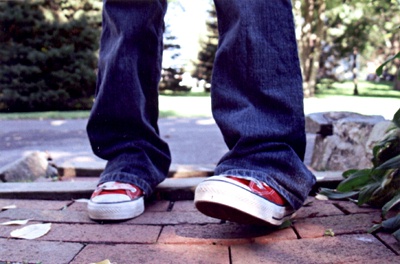 © Sara M., Milford, CT