Divore... REVISED
May 18, 2010
Lilly and Garrett have always been close, but lately they've been even closer. As Garrett walks into his sister's room he sees her crying. He sits down beside her and rubs her back. As she looks up he pushes her hair out of her face.

"Don't cry Lilly, everything is going to be fine." Garrett tried to console his little sister; he hated to see her cry.
"I just wish they would stop," Lilly screamed, as she looked at her brother for some sympathy. "Don't they realize we can hear them?" Their parents have done nothing but fight for the past three months, everything was an argument. From daily chores to what was being watched on the television.
"They aren't thinking about anything but their own problems," Garrett explained, "Not us, or the neighbors, not even the dog. It affects all of us in negative ways, but all they see is how it is affecting them."
"Do you think they will get divorced?" she asked with a worried look upon her face, "What will happen to us? Where will we live? What about the holidays? What will the kids at school think?" Lilly asked these questions, knowing most of the answers. Everyone knew divorce was coming it was just a matter of waiting to know when.
"Don't worry yourself with silly questions Lilly," Garrett said, trying to comfort his younger sister as she started to cry, "and don't worry about us, we will be taken care of no matter what, everything happens for a reason. We will be just fine. Please don't cry Lilly, I know it's hard right now, but we will get through this." Garrett grabs a Kleenex from the nightstand and wipes his sister's tears. Garrett stands ready to leave the room. Just then their father walks in looking as if he's been awake for days.
"Sit down please; I'd like to talk to you." Their father directs. Garrett sits and repositions his self beside his sister. "I've been doing some thinking and before you say anything just hear me out. I have decided, no we have decided, your mother and I have ultimately decided to separate." This was hard for him to say to his children. Susan (Their mother) refused to come along to tell the children, she demanded that he tell them since he was the one who wanted the divorce. "I will be staying with Uncle Frank for awhile until I get on my feet, you can come see me anytime you want." After saying this, their father only hoped his children would still want to come see him.

"So this means you're getting a divorce from Mommy?" Lilly asked shakily, secretly pleading in the back of her mind that he would say no.

"Yes Lilly," Garrett blurted out before their father could answer, "Dad isn't going to live in the same house as we will anymore. We will probably only see him on weekends and that depends on what the judge decides."

"Now Garrett, don't jump to conclusions." His father lied, he knew they were getting a divorce but he couldn't tell his little girl he could see the pain in her eyes already. "Your mother and I are just taking a little break from each other, what will result from this I don't know but there is no need to assume the worst." After each lie he felt even worse. "I am leaving now, I will see you tomorrow." He hugged his children firmly, never wanting to let go.

Lilly and Garrett watched their father leave, scared of what would come of all this.

"Lilly? Garrett?" Their mother barked, as if they had disappeared.

"Yes?" They answered wondering what was wrong.

"Dinner hasn't been cooked. I was going to cook but I'm just too tired; would you like to eat out with me?" She asked hoping her children didn't hate her; she had tried so hard to keep her husband happy though it obviously wasn't enough.
"That sounds great." Lilly choked, drying the last of her tears quickly as she lifted her head.
"Yes, I'm starving." Garrett agreed, noticing the wary look about his mother. She was looking thinner and thinner as the days went by. He hoped she would actually eat this time. As they walked out the door Garret looked back into the empty house. He realized that his father would no longer be there, he would be the man of the house. He trembles; the responsibility of having to keep his mother and sister safe was terrifying. It was all up to him.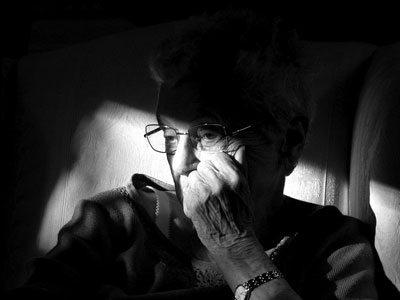 © Kate S., Hopkinton, MA