imaginary silence
May 16, 2010
The girl does not speak, but she sees, she hears, she smells, she touches, but the girl does not speak. She seems to see things as if they are in black and white but never grey. When someone asks the girl a question she either nods yes or no or just answer at all.

The friends she used to speak to speak to have left, the family she used to laugh with has given up on her, and the boyfriend she had once loved has found someone new, and left as well. The girl is not in pain, or in love or comfortable. The girl is not anything, and yet the girl is herself.

When she is awake she'd watch as the world, as cruel or content as you want to conceive it as, goes on without her; not caring that she sees through her eyes in black and white. The world goes on like a card game, after someone looses, you forget about them and move on.

Her friends make new friends, her family plays with their other children, her old boyfriend married her old best friend, and they all move on leaving the girl alone.

They all age, grow wrinkles, lose height, and gain weight. They all lose and gain family members, and they all forget about the silent girl who saw in only black and white. They all forgot about the girl that was everything and the girl that was herself.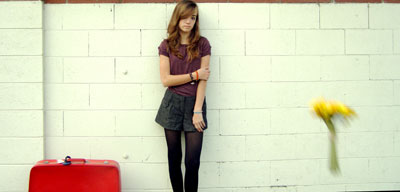 © Austin K., Studio City, CA