Promises, War and Milkshakes
May 8, 2010
It was a hot summer Tuesday in Belleview, Kentucky when Mama, Papa and me got the letters from the military base in Iraq. I smiled when I found the sundried sealed envelopes in our mailbox. It had to be from Michael. We had been waiting for his letters for about a week or so, now we finally had them. Hastily, I opened my own letter

"Dear Mollie,
Its hot here, way hotter then home is. But its no so bad. In your last letter, you asked if I met any girls. Well, as your older brother, I'm not sure if I should give you those kinds of details . . . (Partly because there aren't any) How are Mom and Dad holding up? If I asked them, they would lie if something was wrong. How are you, Mollie? You said something about a boy at school last time. Josh, I think? He better treat you right Mollz. You know what you deserve. And tell him he has a brother that will make sure your treated right.

You know what? My bunkmate, I think I told you about Rascal right? He reminds me of you, Mollie. Hes cool and colected, or at least he acts like it. And hes not afraid of anything, just like you. I have to go soon Mollie. I won't be able to write for awhile, Seargent says we are being shipped out into the warzone.

Remember that one day when you were six and you cried because your rabbit got sick? I told you I knew something that would cheer you up. We went to Charlie's Ice Cream Parlor and had our specialty milkshake. Triple Strawberry-Berry Deluxe. You have to promise me something, Mollie. Promise that when I come home, we go to Charlie's and devour at least five of those milkshakes, okay? And in return I promise you that I will be home very very soon. I will see you very soon. I love you Mollie.

Love,
Michael"

A few loose cannon tears had escaped from my eyes while I read this letter. I remembered that day all too well. And I would keep my promise to my older brother, my best friend.

Months passed. I was working with one of the horses when I spotted the unfamiliar black olden days car strolling up our long, windy driveway. When I saw a tall man in a uniform of green fabric that wasn't my brother, I fell to my knees, completly breaking down. My brother, my only brother and my best friend, was captured by the enemy. For months, I was tortured by the thoughts of what they could be doing to him. For months, I wondered whether Mike was dead or alive. For months, I cried until my stomach hurt and I could summon nomore tears. For months, I waited in that one tiny green booth in the corner of Charlie's Ice Cream Parlor, hoping that one day, just one day, that Michael would walk through that clear glass door and make everything in my world bright again. Make everything in my world right again.

Eventually, years passed. And that day never came. We didn't hear anything more about Michael, or any of he other men who were captured and most likely killed. I stopped talking to my Mama and Papa. I stopped going to schoole. I stopped hanging out with my friends. All I ever did was sit at that one booth in Charlie's, hoping that one day Mike would come home. Everyone had given up and said that he was dead. Even Mama and Papa. But not me. Not the troubled younger sister of an M.I.A soldier of war. Michael was alive. He had to be, right? He couldn't be dead. He was my brother. He just could not be dead. Michael promised me he would come home soon. He promised.

It was a hot summer Tuesday in Belleview, Kentucky when I heard the usual jingle of bells as the doors to Charlie's Ice Cream Parlor opened. I didn't think anything of it, I just stared at my hands in my lap as I had for the past two years. It was the anniversary of the day I recieved my last letter from my brother. I told myself that if he did not come today, he was never coming back and that I had to accept that my brother was gone forever, and there was nothing I could do about it.

That was what I was thinking about when a very familiar glass with a very familiar drink was slid infront of me. And a very familiar voice that I had been waiting to hear for years said, "A promise is a promise. Right Mollie?" Slowly, my gaze shifted upwards, and into my vision came the figure of a tall, early twenties man with dark hair like mine and blue eyes like mine. Tears were welling up in his eyes and he was smiling. "Michael . . ." I whispered in great shock. That was the first I had spoken in practically two years. I shot up from my place on the booth, wrapped my arms around the body that I have missed with all my soul and cried. Michael, my brother who was a missing soldier in the war, had finally come home.

I gues miracles really can happen.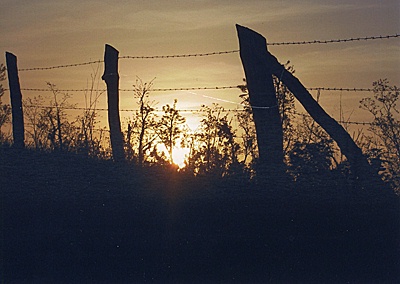 © Michael T., Letart, WV