Hectic Consequences
May 7, 2010
"It's really surreal, but all this was never my own decision. My mother has always thought about me, yet here I am wrapped around in her own dream." That was the first thing she said when I asked her: "How do you like being the fresh-faced supermodel of the new millennium?" It was something unexpected and dangerous, but brutally honest. I asked to take five.

Suzie just asked to take five after I gave her my answer. It was mildly funny to see that expression on her face of complete disarray. But she did tell me to be totally honest and isn't the truth better than tabloids reporting stupid news about my promising future? I've figured out she just loves to be using big words and being such a great person in this media stage at the moment! *sarcasm* But she is more than a tad boastful of herself. Anyway, I don't love this modeling business, yet I don't hate it either. I mean, yes I make money and I can buy whatever I want, but really it's my mother's failed dream all over again. Not my own. She wanted to be a model, but then she fell in love and quit. Correction: She got fired THEN she fell in love. After just a few months of being an intern. Oh, there's Suzie, walking out of the restroom looking spiffy in $1,200 Gucci shoes. I'm guessing she got over her little spaz attack there!

I walked back to the crew. "Cut that part out please." I pointed briskly to the small introduction and one question we had done that was rolling on the tape. "Okay." Kayla Winterbottom was an intern here and seems like my mini-robot. I guess it's because I promised she could design some outfits and I'll send them to the runway. She quietly hits delete.

"In 5, 4, 3, 2 we're rolling!" Janek whispers. I put on a flashy, beautiful smile. "Hello ladies and gents, today we are here with Amy June Lee the fresh face of modeling. Though only 18 years old, she has become the most highly wanted model since Tyra Banks! So Amy, tell us about that fairy tale story that started with your very first photo shoot."

Her eyes fought daggers at my own. They said: "You freaking do something like that again, I am going to rip your head off and have it for lunch." So I decided to play nice with the lioness. "Wow, I still can't believe all this has come true for me! Well, Teen Vogue called me after my mother turned in some photos of me and asked if I wanted to do a shoot. I thought, this is just…..I cannot begin to describe that feeling." I smiled, teeth showing. Suzie loosens her posture a bit and heaves a tiny sigh of relief. She asks another question, even with my eyes daring her to go on. She nods, as if she was listening to me in minute detail. "Amazing! So how many designers are you working for? Who's your favorite?" I almost want to tell her she looks like the Cheshire cat from Alice in Wonderland with that creepy leering grin. Instead I sweetly say: "About 7 at the moment! I love all of them so much, but Marc Jacob's and Alexander Wang's new collections are really cool this year." And so it went on, the "sweet" echo of Suzie's annoying voice, chirping away questions, and my equally fake response.

"The whole thing was a disaster! Do you think I can put up with your fake questions and friendships with these wannabe celebrities that will be on Remember When They were still in?! No! I don't take that crap of yours. Now go away or I'll fire you!" Julie Kinkak screams. "Yes Ma'am." I quietly shuffle out of the door…......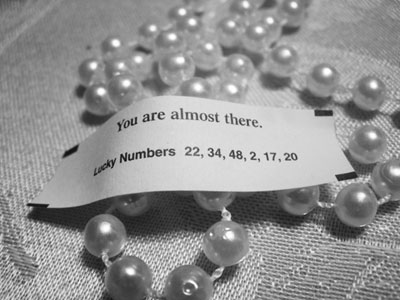 © Elizabeth E., Elmhurst , NY