My Life, My Roller Coaster Ride
May 7, 2010
Journal entry #1 January 9, 2008


Today the test results came back. It's official. My body has been taken over by a bone marrow, blood cell eating cancer. Leukemia to be exact. It sounds scary and it is. Try being the one who has the disease taking over your body. I don't know how to deal with this. I'm suppose to be Arianne Sky Foster, top student for the sophomore class at Washington Colony High, not Arianne Sky Foster Colony, Washington hospital cancer patient. My life is not supposed to be like this! I'm only 15; I can't handle this type of thing. How would you feel being told your cancer is spread throughout your body and you've got six months to live if they don't start treatments right away? It's a heartbreaking thing to be told and I'm going to have to face all of it.

Dr. Coleman told my Grandma and I that we are going to have to try a series of treatments and some of them my body won't react well to. He also said my treatments will make me very tired and I could possibly lose my hair and that I'm going to start them exactly a week from now. I was bawling my eyes, trying to catch my breath. All that was running through my head was trying to tell all this to my best friends, Jess and Riley, my boyfriend Tyler, and not going to school. I don't know what I did to deserve this?


Journal Entry #2 January 13, 2008


He's actually marrying her! My dad is actually marrying my mom's ex-best friend Leah! This is horrible. I've come to a conclusion as a right this that I will never be close with my dad again. I just can't anymore especially after he got together with Leah just three months after mom died. I want to be close with him but him and I have both kind of pushed each other out of our lives. This problem has become an inner battle with myself that has built up and now I just can't handle it. I still live under the same roof as him, his room is right the down the hall from me, but whenever we pass each other in the house, we have little conversation. We never talk about school, or my cancer, or my life in general. His attention is always on Leah. I feel like I've lost both parents.

Since mom died, and dad and I aren't close at all, my Grandma Ann takes care of me. She's taken the roll of my mother. My Grandma comes with my to all my appointments, parent teacher conferences, and has gone down as the person to call incase of an emergency. Although my Grandma and I are very close, I wish it were the same way with my dad.

Journal Entry #3 May 19, 2008


I haven't written in this thing in a while but my life has been quite the roller coaster ride these past few months. Cancer speaking wise. I've lost all my hair, lost ten lbs, and every day I feel sick and weak. Bruises cover my body. I feel ugly just looking in the mirror. Telling myself this wasn't suppose to happen, I don't deserve this. But maybe I do. I don't know.
I don't go to school anymore because nobody looks at me the same and it really gets to me. Lately, everything has been going down hill. The past two attempts to demolish my cancer were complete failures. Dr. Coleman decided to start a new treatment. A stronger one, that so far has taken a dramatic toll on my boy. I've been going through this treatment for almost a month now and I feel sick all day every day. If this attempt doesn't work, then we are all out of options.

When you start a new treatment, you have to wait at least two weeks before checking if it's working. We checked last week to see if it was slowing down my cancer, it wasn't, so Dr. Coleman said that his coming Monday he will run tests again to see if it's doing anything. I am really sick of getting poked with needles and sitting in hospital rooms. I feel as if giving up is the best option for me. I'm tired of going through all of this. I'm just scared.

Journal Entry #4 May 24, 2008


Today my Grandma, Tyler, Riley, Jess, and I went to the hospital for the results. I had the guts to ask my dad if he wanted to come. "I have more important things to do. Leah and I need to go pick out our theme for the wedding," were the exact words he said. They were like a slap in my face. I hate my dad, and I hate Leah. I really do. She's ruined my relationship with my dad. Times like these, I really wish my mom were a live. She would have been a great help. I really miss her.



On the way to the hospital I was literally almost crying. My hands were shaking with fear and all I was thinking about was the worst. Tyler just sat there holding my hand, telling me was going to be okay. I just kept telling myself that he was right.

We got there and Dr. Coleman allowed us all into his office. At first I didn't know what to expect because he had this stressed look on his face as he fumbled with his papers. I just kept expecting the worst.

"Arianne, I know how hard you've fought to overcome leukemia and I've see you at your worst but you always climbed back up to the top and battled it more. I'm glad to say that after six months, you've finally won your battle."
I was happier than a little kid with their favorite flavored lollipop. We all were crying tears of joy. I even seen Tyler shed a tear. I will always remember that exact sentence the day that Dr. Coleman told me I was officially cancer free.

Journal Entry #5 July 19, 2008


Being cancer free feels like a weight has been lifted off my shoulder. It's been two months since I've been cancer free, and my life is slowly getting back to normal. My hair is starting to grow but I still use a wig. I still feel awkward wearing it. I have gained five pounds back and am maintaining a healthy diet. Everyday I feel better and better and this fall I've decided to go back to school. I'm not looking forward to having to tell everyone about dealing with cancer. I am tired of talking about it. I still don't talk to my dad and I don't plan on attending their wedding next week. Seeing him and Leah get married would probably make me want to gag. I would rather spend my day cleaning up puke then go to their wedding. My Grandma told me it would be the right thing to do by going but I don't care. I AM NOT GOING. In his words, I have better things to do. Instead, Riley, Jess, Tyler, Devon, and I are going on a camping trip.

When I think about my fight through cancer I cry about it but to know my roller coaster ride has lost a lot of its swift turns and huge hills is a big relief to me. I am finally at peace with myself.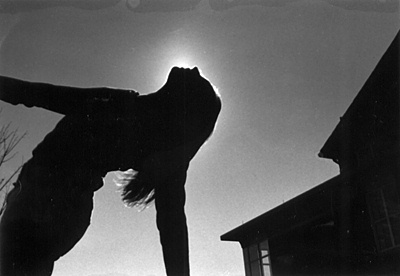 © Alexandra B., Marblehead, MA