Arabian Nights
May 5, 2010
Arabian Nights


Ibrahim walked through the busy streets of Cairo. His sandals clicked with each step on the asphalt. He moved quietly through the people, whispering under his breath. Car horns honked, people shouted in Arabic, vendors tried to sell their various good to the hundreds of tourists on the street. Ibrahim just kept on moving. He balanced a large, flat piece of wood on his head. Above that piece of wood, was a thick white cloth. Above the white cloth, dozens of flat pita breads. None of the breads fell or even moved for that matter. Ibrahim wouldn't have minded if they did anyway.

Ibrahim kept walking through the street. A man ran past him, being followed closely by two policeman. He grabbed a loaf of bread from Ibrahim and kept running. The two tall police officers stopped right in front of Ibrahim, out of breath. The shorter of the two asked him "Aren't you going to help us get him Ibrahim?".

Ibrahim shook his head and kept moving. He said nothing. He didn't have to. The officers knew that he would've said "He will answer to God, later". He would.

Ibrahim walked for a few more minutes. He walked from the heart of Cairo to a slightly wealthier neighborhood. He walked through the wealthy neighborhood into another neighborhood. This neighborhood was concealed in a maze of stone carved many hundreds of years ago. It was one of the ruins that the city had been built around. Ibrahim, his daughter, and his son were the only three people who lived in the maze that was believed to be deserted by the rest of the people city. The children and Ibrahim were the only people who knew how to navigate the stone maze. The family had built a home there many years ago. But that's a different story.

Ibrahim reached the center of the maze. He gracefully set down his bread platter. It fell to the dusty ground, Ibrahim couldn't afford a rug. But what he could afford was a bed for his children and a bed for himself. He was a strong believer in the principal that all a person needed, was a bed, water, food and a father. He was able to give his children all of these things. But not much else.

The first person Ibrahim saw was his son, Muhammad. Muhammad was a tall strong boy. He had a job at the futbol stadium where the Egyptian national team played. Muhammad knew all of the players and often was able to attend practice with them. The boy had grown up playing futbol. He was good. But he was too young to play for a professional league. Ibrahim and Muhammad started to fix supper. Muhammad grabbed a few rolls of bread from his father'l;s platter. Ibrahim started to mash garbonzo beans to make hummus for the three of them. The whole time they worked, they didn't say a word to each other.

Imani was always the last one home. She was a student at the University of Cairo. She had been selected for a scholarship out of 500 other students from around the city. She was the smartest person either of the men had ever known. She had been top of her class every day, of every year of every class she had ever been in. She sat down her pack and went to hug her father with a bright smile on both of their faces. Imani, being the chatty one of the family, promptly said "How was your day?" to no one in particular. When both of the men nodded, she realized that she wouldn't be getting any sort of response from either of them.


They sat down at the lone table in the middle of their makeshift house. Imani brought three red cans of Coca-Cola out of her bag. They drank, ate and smiled the entire time. Still without a word being exchanged between them. Ibrahim had instilled in his children from a very early age the principal that if you spoke very little, you can hold on to yourself and those you love forever. They finished their dinner, cleaned up and then sat gazing at the stars.

Once they decided that the stars were no longer interesting they decided to head off to bed. Muhammad and Imani helped their frail father into his bed and pulled the thin sheet up to his boney chin. The two young adults, though Ibrahim viewed them as children, sat on either side of his bed as he whispered a prayer for the three of them. He then told his children the same words that he had said to them every night before they slept: "Listen to me for what I have to say may not be what you want to hear, but they are the true ramblings of an old man in the Arabian Nights.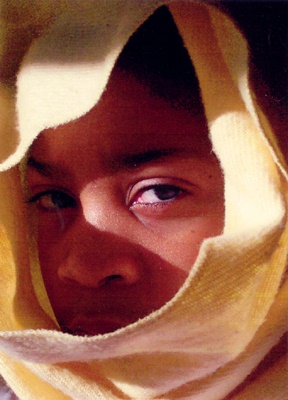 © Nicole C., Eagan, MN