Taking Care of Adam
April 30, 2010
I can't sleep again. Every time I close my eyes, I see him. With his marvelous eyes that glow like diamonds in the night sky. And his smile that never seems to stop. (Even when he can't figure out how to start his car.) The way he holds my hand and whispers into my ear, "I love you."

He's crying though, and his eyes are now filled with tears. But you can't tell because the weather is howling along with his pain, and he doesn't have an umbrella. (No one does in Texas.)
His Converse is all wet too. (Something he would have never allowed) The plastic around his shoes is old and worn from so many walks around the school with me by his side. His black suit makes him look taller and more serious than normal. He'd smile and say that he liked being short. (I didn't blame him, being short does have its advantages.)
I can't tell if he's listening to the preacher or not. He's looking at him, but yet, he's not really looking at him. All around people weep, but yet he sees no one. His father comes and puts a hand on his shoulder, but he doesn't notice or even flinch. He's just standing there, with drops of rain drizzling off his brown/black hair. His eyes are the color of honey, but right now all they show is the pain dwelling deep inside of his heart.
I can tell that he's crying harder, because he's letting his hair plaster itself right in front of his face. His shoulders move up and down in a quick motion and he lets out a soft wail. But no one can hear him because of the cracking of thunder up above. It shakes the ground with an angry yell, but no one seems to notice.
He brings his hands to his face, (Which was in his pockets. He always liked them there.) And sobs until there are more tears then rain on his Converse. He just stands there the entire service, crying harder with each passing minute, and watches the coffin lower into the ground. Slowly people start to leave, but he insists on staying. (He was always so stubborn.)
By now, he is the only one left standing at the gravesite. The rain has slowed, but everything still looks so gray. Wiping the hair out of his face, he gradually walks to the gravesite. He drops to his knees and kisses the stone that has the name of the person whom he would never see again. Putting roses beside the grave, he says his last good-bye and slowly walks away.
I care for him so very much, and I wish that I could hold him in my arms. How I wish so very hard to once again tell him that everything's going to be alright. My hands itch to cradle his smooth cheeks in my hands and let him rest on my chest. But I can't, God doesn't allow the angels to talk to the living.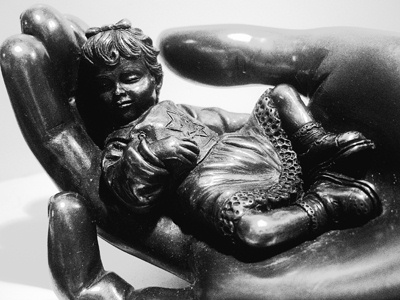 © Dat L., Worcester, MA