Change? Or Opportunity?
April 27, 2010
My name is Sydney and my story is how my life seriously changed.
It was just about the end of the summer when school was about to start and I was ready
to start my new school. Now, I had stayed in a private school untilthe sixth-grade because my
mom wanted me to and my friend was there. After the sixth grade, we were going separate
ways. I wanted to stay with her as long as I could because I knew we wouldn't see each other as
much when we got out of the private school but that time had already passed. Summer was
over, On Sunday night I was really excited to start my new school.
"The seventh-grade," I thought, "this is a new start," but when I went to bed that night, I
started to feel unsure.
It was Monday morning- first day of school. I got up really early, just to make sure I
wouldn't miss the bus. I had to walk to the bus stop because my mom had to get my brother
and sisters up for school. I was warm on the way up the hill to where the bus came. Well, I
guess it was warm enough, but I was wearing my neon orange jacket. I met my friend Hannah
at the top of the hill; she lives over the hill and across the street from me.
"Hi, Hannah, how are you?"
"Good," she replied , "are you ready for the first day of school?"
"Sort of, I don't really know."
"Don't worry; middle school isn't that hard."
"Ok, that sounds easy enough."
Just five minutes later the bus came up the hill and adrenaline was rushing through my
body, and it just hit me like being hit with a baseball. I was sort of scared and it only occurred to
me now that I was, As I got on the bus, I was having hard time breathing. I didn't have asthma,
but it hurt. I grabbed a seat and sat down as fast as I could before the bus started moving. As I
sat down, I started to calm down. I never rode a bus before going to school. Only once when my
brother and I were going home with one of his friends but this time I was alone.
The bus stopped at the high school first but I expected that. Next was the middle schoolmy
new school. All of a sudden, this kid started yelling, and then another kid started yelling
after him. I didn't know why they were screaming at the top of their lungs, but I could tellthat
they were boys. When I got off the bus, I had to walk to where the seventh-graders waited to
go into the building. As soon as they opened the doors, it was just as I expected. Everybody was
pushing their way in and they pushed hard, like a freight train. We had to go upstairs to get to
our lockers. I got my books, pencils, and anything else I needed and went to my first class. My
first class was computers and it was all the way down in the eighth-grade area.
"Computers," I thought, "no problem." I was really good at typing and that's just what
we were doing. I didn't have a password to login, so I had to use the teacher's. Next was Social
Studies; it wasn't very hard. Then was English and Literature, followed by gym, lunch, study hall,
science, and lastly math. I liked science and math a lot; they were my favorite subjects. But
during lunch I didn't know where to sit, so I sat with my friend Hannah and her friends. For the
rest of the day it was okay. Before I knew it, the day was over and lwas able to go home. I got
on the bus and r saw some peopre that I had seen in my other crasses, only I didn't really talk to
them, ljust sat down.
WhenIwa|kedintomyhouse,mymomwassittingatthetab|ereadingabook.
"HaY, how was Your daY?" she asked'
"lt was good, well, it was okay for the most part but I met a lot of new people'"
"That's good. l'm glad," And I told her about all of my classes, who is in them' and about
my teachers. I was excited for the next day'
l woke up, got dressed, brushed my teeth, got my things, and was ready for the bus to
come. Just like yesterday I sat in silence and again I heard yelling from the same two people'
They yelled like no one was able to hear and they yelled like a train whistle' First the high school
kids got off, and then it was the rest of us' The day went by, only this time it was worse' I
missed my famiry and I was used to being in schoor with my brother and sisters. At lunch I sat
with Hannah again, only this time she didn't really talk to me' I had asked her a few questions
here and there, but only got little response. Nobody else really had a conversation with me for
the rest of the daY.
But you know, the days got better. I had made new friends, Bianca, Gaby, Xenia' and a
lot of others. I would always go and help my science teacher with things during study hall
because I had nothing to do, and my friend Xenia herped me. I started to get the hang of things,
except for one thing. After a few months people were still asking if I was the new kid' I didn't
get it. Shouldn't they know that? l've been there long enough that they should know'
Day after day, things got even easier; I would always hang out with my friends and we
always had a lot of fun. What I was so happy about was that I had them at my side to help me if
I needed it. I guess you could say they were my bodyguards, but only better. I knew that my
friends would never leave me; lwas sure of that. lwas happy and lwas enjoying my new
school. I am a lot happier now than I was at my old school.
Now I look back and see that my first day of school was a great big change. The more
the change, the more the opportunity. I had other major changes in my life, like when my
parents got divorced, but part of that had good changes. lf my parents never got divorced, I
wouldn't have had my first day of school where I am now. I will never forget the changes I have
had to face in my life, but allof them are a great opportunity and I know lwill have to face
more in the future. I remember someone saying, "Nobody said life was easy. They just
promised it would be worth it," and it's true. Now, l've got the hang of it.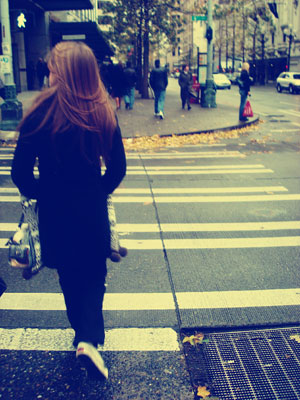 © Adria O., Edgewood, WA