Crushed
May 1, 2010
Everything changed for us last night. His decision to separate broke my heart. I tried to be the bigger person and not cry in front of him. He tried to apologize but I didn't want to hear any more of his excuses. I couldn't get his words out of my head. "I think we should break up. We're not getting along as much as we use to." The scene kept replaying over and over in my head. Him saying those dreadful words and then just walking away without even a care. Once I got home, the tears started falling. I couldn't make them stop coming. How many times was I going to hear the words "let's just be friends" run through my mind?

"Ring, ring!" The phone called out to me.

"Hello?" I said with a sniffle, trying to make the waterworks stop long enough to find out who was calling.

"Hey Amy, its James. Are you okay? You sound like you're crying."

"Yeah. I'm fine, James. What are you up to?" I was trying not to cry. I held it back as long as the pain would allow it.

"Oh, nothing. Just hanging out in my room." He didn't sound like himself, like he was trying to hide something from me. His voice was a higher pitch than normal, and I grew suspicious.

"That's fun, I guess." The sobs started welling up in my chest again. I had to cough the tears away as I held the phone to my ear, all I could hear was silence. "Hello? Are you still there, James?"

"Oh, yeah. Sorry. I have company over and they were having a problem."

"Do I know them? What's their name?"

"No, you don't know them." He sounded like he wanted to be done with the subject and over with the conversation. Why was he acting so weird toward me? Was he in love with me still, or was it someone else?

"Oh okay, are you having fun with them? Are ya'll doing?" Was it so bad that I wanted to have a normal life that I wanted to have him back in my life? Why couldn't we just rewind?

"Yeah, we're sitting on my bed watching a movie." As he said "movie" I heard a girl's voice in the background. It sounded like someone I had heard before.

"Who's there with you? She sounds familiar." I went to the bathroom to look at my face. My brown hair was tangled mess, an eagle's nest atop my head. The thick black eye liner was smudged and streamed brown my face from the tears. I ran my thin finger under my eye to try to get the smudges off of my skin.

"Oh, she's my ex. She's over here just hanging out. We have been hanging out for a few weeks." As soon as the words slipped out of his mouth my mind started racing. A few weeks? W have only been broke up since last night, how does that make sense? How can he just dump me and ignore my feelings?

"Alright, well I'm going to get off the phone and do some homework." I just wanted to get off the phone with that jerk, to lie on my bed and attempt to relax.

"Oh, well I guess we'll talk later."

I do have one question. Why are you hanging out with our ex?" I just wanted to know that one answer before I got off the phone with him.

"Well I can't talk right now. I will call you later tonight." As soon as he stopped talking I could hear her in the background.

"Who are you going to talk to later tonight?"

"Click!" Just like before, I didn't want to listen to another word after I heard her in the background. All I wanted was peace and quiet from then on.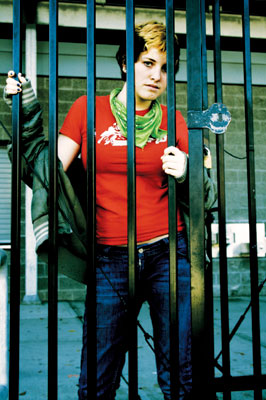 © Jessica C., Corvallis, OR