Stars Smile
April 20, 2010
The black abyss in my mind recedes, with every passing moment. The terrible ear piercing screams dim and turn to laughs and giggles. I stir in my dream and press my palms lightly into the sand. Gentle raindrops pitter patter on the face of the water. Grey, as it reflects the downy clouds gathered above. I close my eyes and listen for the harmonious almost musical crash of the waves as the crests break on the beach.
A single teardrop escapes my closed eyes and a raindrop hits me clean on the lips. My eyes still tightly shut, I continue to think about the warmth on my shoulders and back from earlier. But, just as I start to re- imagine the warmth of the sun on my lips, the hairs on the back of my neck stand up. Cold lips press softly against my own. I think about the lips for a minute and then think, to heck with it. I press my lips harder against the unknown and break off mid kiss to giggle to myself, realizing I'd been knocked over.
I open my eyes to see him staring at me. Warmth fills my smile as he says "No more crying," I press my face and lips into his shoulder and embrace the boy that sits before me. He tries to not laugh but, winds up in defeat.
I ask him "What," But his gaze has drifted.
The rain has stopped, and the clouds have rolled away. And even though the sky is dark, enough light emanates from the stars, to the point that even in the quiet, cold, dead of night; I can still clearly see the look of devotion and curiosity in his deep brown eyes.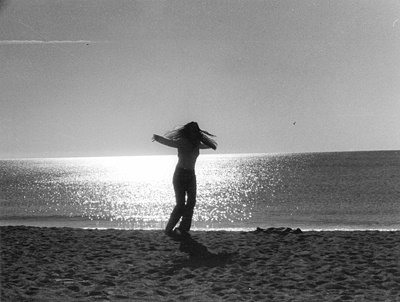 © Denise A., Marblehead, MA