The Past May Come Back to Haunt You!
April 7, 2010
"BBRRRINNGGG!!!" screamed the school bell, which startled me just a bit. Spacing into thin air during math, I was in my fantasy world at a fashion show in Paris. But, as usual, something always woke me up just to bring me down. I walked into the hallway filled with screaming kids, grateful that it was lunchtime and I had a forty-three-minute break of academic torture. Standing at my locker, I placed in my books, grabbed my lunch from the top left hook, shut my locker trying to make the least noise as possible, and headed down the hallway to the cafeteria.
"Well look who it is, girls. Jocelyn the chopstick." Her posse giggled and I felt the corners of my mouth involuntarily curl down a bit. I stopped for a second thinking if I wanted to just ignore her, or say something to her face, for once, that she deserved. But, as usual, I took the easier way out, which changed nothing. I restarted my slow trudge, dragging my feet, when I heard her say, "What? Are you deaf?" I cringed every time I heard that horrific voice—especially when it was talking to me. It was the voice of, none other than, Sherrie Wilkinson. Hearing her voice get closer, I picked up my pace just a little, but just enough that it went unnoticed. When Sherrie said those kinds of things to me, it stung for a little like when a shot penetrates your skin and your eyes moisten. Sometimes that pain would linger like that of an intramuscular shot. To make me feel better, my mom would say to me, "Honey, she's just jealous of you. It's the way girls are."
Umm, hello, mom? Are you kidding?
Unlike other schools where the bullies usually wore army-printed cargo pants, a baggy sweatshirt, and elevated basketball sneakers to look bigger and badder than everyone else, Tray Collins Middle School was magically blessed with the 'The Pink Monster', as I called her. She was gorgeous, most commonly in—you guessed it—pink, argyle, and her immaculate blond hair was just the cherry on top. She showed off the fact that she was up with the latest trends, and she NEVER, EVER refused a compliment. But on the flip side, she could never lift a finger and give one! Instead she would throw a diss at you like it was nothing—even if you were the most self-confident person in the world, one burn from Sherrie, and you're stuck in her 'diss dump' forever. I mean, if her non-existent identical twin sister walked into the room, she would find some flaw to tease her carbon copy self about. That was pretty much the story of my life. However, much has changed since the seventh grade in Clinton County Missouri…



-


-


-

I am strutting down the runway during Fashion Week in Paris wearing the GORGEOUS Jason Wu cocktail dress carefully crafted of progressively fading orange into golden-yellow sequins, which falls right above my knees. The sounds of clicking cameras of press and paparazzi fills my ears and the flashes nearly blind me. As the audience filled with a mixture of Mr. Wu's fellow designers and fashion critics applauds, I sneak a peak of my amazing husband, Cory, and my heart lifts. His beautiful aqua eyes stare straight into mine and my lifted heart starts to melt with the heat of love that we share. Cory looks so adorable in his charcoal Burberry sport jacket, light blue collared shirt, and tan khakis, I thought—an outfit that I picked out with the amazing sense of style I have developed over my 4 years of professional modeling. I shift my eyes forward again and they skim over the woman to the right of Cory, who strikes me as someone I know. I have a feeling that I don't want her sitting next to my husband because she is a terrible person. But, I still can't ascertain who it is. Jotting quickly on her notepad while simultaneously glancing up at the runway to catch more looks at the models, she sits in her seat clothed in a baby-pink cap-sleeve button down blouse, gray dress pants, synthetic leather black stilettos, a gray and pink argyle handkerchief tied around her neck and she is wearing her beautiful blond hair down that is puffed up gently at the bottom in an inward curl. Overall, she is very pret—oh my god! This can't be. I'm out of my mind…concentrate on the runway…but it is her…do your turn…it definitely is! I exit the runway, and after one of Wu's assistants makes her way through the mess of zipper and sequin-drenched cloth, I slip into my cozy sweatpants and tank-top. I lean against the wall of the dressing room in shock. As my legs start to give out, I slowly slide down the wall, thanking god for making that my last walk of the night. If it was not, my jelly legs would have shown the last of me, and my whole career would have been over. I can't believe that Sherrie Wilkinson is a fashion critic for Vogue Magazine back in America! While I sit there in disbelief, flashbacks begin to disgustingly possess my mind. Just a moment ago, my mind was filled with the burning love that Cory and I share, but suddenly, my whole world has turned to black.
I finally wake up from my trance of horror, and find myself sobbing in a ball of emotional agony. I shift my thoughts to comparing myself between the past and the present, and my level of pain simmers down just enough that I can breathe a little easier. Then, I was a shy, antisocial nobody, but now, I am a self-confident, beautiful, and outgoing person. So Sherrie, if you're reading this, listen up: you may have stolen my self-esteem in school, but look at us now—I'm the one up on the runway enjoying the beautiful places my job is taking me, and you're the one in the chair at the foot of the runway secretly suffering from jealousy. I guess my mom was right.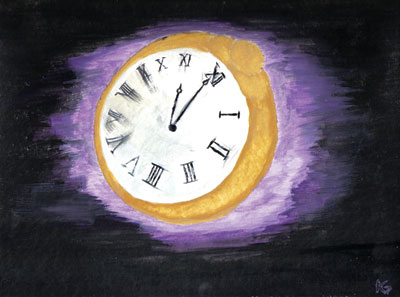 © Kyle G., Clarksville, TN