Soccer Dreams
April 11, 2010
In the Harry Potter books by J.K. Rowling, there is a mirror called the "Mirror of Erised." If you look into the mirror you see what you want the most. If I had the opportunity to look into the mirror, I would see myself in a soccer game about to come to an end. I am the goalkeeper in the World Cup playing in the finals representing America.

The final whistle blows and the crowd lets out a giant roar. We just won the World Cup by beating Spain in the finals by a final score of one to nothing. This is the biggest upset the world has ever seen and everyone is shocked. We shake the hands of the Spanish team and then the celebration begins. We run around, yell, jump up and down, and mob each other, making a giant dog pile in the middle of the pitch, in the open roof stadium, under a cool night sky. We dump the water cooler on our coach who, without all of his time and effort, we wouldn't have made it to where we are.

Next it's time for the presentation of the trophy for winning the World Cup. The captains go to retrieve the trophy as the rest of the team and the crowd cheers. The captains pass the trophy around and all of the players are holding it in the air and giving it a kiss. The feel of the cool, gold trophy in my hands is the coolest thing I have ever felt. The light from the stadium's lighting fixtures high above our heads reflects off of the golden trophy. The red, white, and blue streamers pour on us from the fans who stuck with us for the whole journey. The reward for the players who put in long hours of work in practice since the team was picked is more than anyone could have possibly imagined. This is what every one has been preparing for ever since they touched a soccer ball for the first time at a very young age.
The celebrating moves down to the locker room. We break out the champagne. The champagne stings our eyes but no one cares. We present coach with the game ball and go to talk to the reporters. It is a night and a championship that will be remembered forever.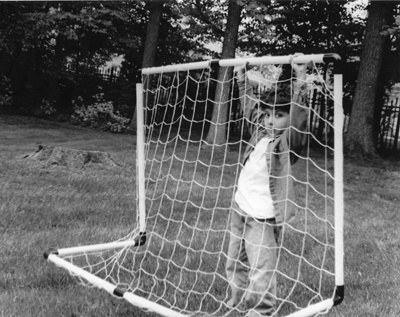 © Georgette S., McLean, VA