Misunderstanding
April 11, 2010
With 10 yards to go, Jeremy Collon ran towards the end zone. The quarterback met his eyes, and threw the ball in the direction he anticipated Jeremy would run. Jeremy sprinted towards it. He dove and grabbed it with 20 seconds left in the game. Unbelievably, he landed on the end zone. BEEP! The game was over. Lakeside High had just barely beaten their long-time rivals, Wayside High, 12 – 6! The whole team ran towards Jeremy and lifted him up, praising him as their hero.

Jeremy loved his school. He was fond of his teachers and liked his classmates. He was a good student and was highly competitive by nature. Jeremy Collon and Mike Hauler, his best friend, were an inseparable duo since they were children. They did not know then that their immediate future would be stained by their sense of competitiveness.
It started at a pep rally. The first football team was going through the "line of appreciation." It was Jeremy's turn, and while he was pushing his way through, he got smacked hard on the back of his head. He quickly turned around and stared at his attacker. Jeremy lost his temper and punched him back. The guys around them started chanting, "Fight! Fight!"
Mike jumped in and separated the two. The loud cheering and enthusiasm of the students slowly faded, and everyone returned to their dormitories.
"Calm down man, back off of my soccer teammate!" Mike told Jeremy.
"Whose side are you on?" Jeremy demanded.


"I'm on… this kid's side," Mike said, referring to Jeremy's attacker. "He's innocent. It was me who smacked you. I was just joking around." He offered a weak smile.

The assistant headmaster came running and shouted at Jeremy, "You're in a lot of trouble young man! Change and see me in my office immediately."
Mike stood, his mouth open. "I'm so sorry," he started to say.
"Shut up!" Jeremy said, deaf to Mike's explanation. He felt stupid for having punched an innocent guy. That would mean a suspension for sure. Suddenly, his future chances of getting into a top university appeared in jeopardy. Feeling betrayed, he ran towards the exit. Just before he got there, he stopped suddenly and tore the chain he was wearing around his neck and threw it at Mike.
Mike had never even thought that Jeremy could be this angry with him. He walked over and picked up the cross and chain that he had given Jeremy as a birthday present when they were kids. The chain was broken. This annoyed Mike. He couldn't understand Jeremy's reaction and seeing him destroy the chain hurt him more deeply than he could have imagined.
There was a lot of tension between the two boys for the next six months. Both of them focused on their studies; each aware of the marks the other was getting. Suddenly, their marks had become just like every other competition, a game to be won. Both were strong students though and they each had to work hard to get the top marks. Eventually, they became exhausted from over studying and from under sleeping. This caused them to realize how childish they were being, and each thought about making up but did not want to make the first move.

It was a cold spring morning when the soccer team and the football team ran into each other on the fields.
"Hey, tough guy, I'm talking to you!" said John, the assistant-captain of the football team. He was talking to Jack, the biggest soccer player. John continued, "Why're you out here anyways!? You're just a bunch of low life losers. Get off the field so the real men could practice."

Jack yelled back, "Don't even talk to me. You don't have the right to talk to this big boy!" He pointed at himself then added, "Bring it on you big wuss!"
Within seconds, the two teams were all over each other in a sea of arms and legs battling to overpower each other. Several minutes into the fight, Jeremy came face-to-face with Mike. Jeremy accused Mike and his teammates of starting the fight. The two started exchanging blows. When the fight was over, Mike was found badly injured, his body lifeless and face down on the green grass. An ambulance was called and he was taken away.

That night, the headmaster interviewed all of the boys and asked them what had happened. When Jeremy told him that Mike had started the fight, the headmaster stopped him and said that John, the assistant-captain of the football team had admitted making fun of Jack, a member of the soccer team. Jeremy was shocked at the truth. He had thought that Mike had started the fight to annoy him. It had all been a misunderstanding!

Jeremy didn't sleep that night. Instead, he replayed the last six months repeatedly in his head. He felt guilty and ashamed. The next day, he rushed to St. Andrew's Hospital. He took a deep breath and knocked on Mike's door.

Seeing his friend lying on the hospital bed, his arm in a cast, his face bruised and bandaged, Jeremy felt numb.

"Hey Jer, come in," Mike said.

Jeremy took a seat next to the bed feeling awkward and nervous.

"You look awful," he said. Mike laughed.
Jeremy hesitated, but finally said, "I'm sorry for everything"

"It's fine. I'm sorry too," Mike said. He removed Jeremy's necklace which he had gotten fixed from around his neck. "You should take this back. It's too heavy for me anyways."
Soon, they were talking as if nothing had happened. Like the necklace, their friendship too had been repaired and their misunderstanding forgotten.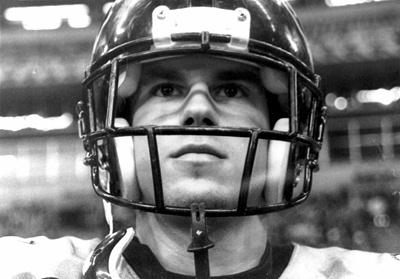 © Maria M., Halton City, TX