The Heat
April 9, 2010
I left a candle burning, in the pitch darkness of my small room, my retreat at midnight, stars an endless sea in the sky. My window cracked open with white flowing curtains over the luminescent flicker. The breeze, warm and steady, forces the flame to dance with the sounds of croaking frogs and crickets, weeds rustling in the moonlight.

Letters from my mother scattered upon the oak desk, each word expressing her love for me and my well-being. Memories in words and punctuation marks that I can only look back on and hold in my hand. Her last words to me that she loved me, she'll take care of me, she will see me...

I walk through the door-frame to the long, endless hallway and make my way down the stairs onto the linoleum in the kitchen, to the fridge in the dim moonlight. I open the door and the hinges squeak as i pull a pitcher filled with sweet tea out of the cool mist releasing itself from the chill of the "box."

I open up a cupboard above the counter tops and take a glass, fill it halfway with ice cubes. Condensation runs down the sides of the clear glass from the summer's night as I pour the remainder of the tea in the pitcher, then toss it in the sink with a loud clang as plastic collides with steel putting aside a job I am too lazy to do until I wake up in the morning.
I then take two of the small cubes and place them on my throbbing temples, dissolving and temporarily relieving the stress and frustration in life... the pain. Small things, things I will not let get in my way.

I pace back up the creaking stairs lined with carpet but soft on my bare feet. I stride to my room, I inhale smoke that burns my throat and my eyes begin welling up with water... I wake up, worried, walk calmly down the stairs again, grab the prescription pill container, toss two blue pills down my throat and put the flames out with my mind.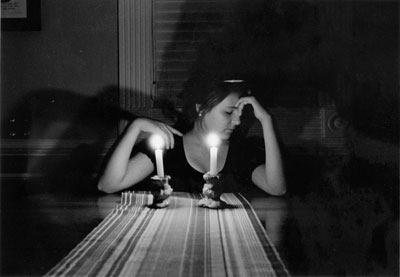 © Eleanor K., Bethesda, MD