Stairs
April 5, 2010
There was a time when the anguish and contempt in my mother's eyes expressed such hatred that it was impossible to believe she was human, and not some animal staring at its prey. And things got out of control. It wasn't the occasional slap across the face, the kick in the stomach, or not giving me dinner…it was a thousand times worse.

I remember this one time when she had come home from her job; I was around twelve. She carefully and robotically placed her work jacket on the coat hanger and neatly threw her shoes into the closet. She seemed normal…for once. Her dark brown eyes gazed across the stairs and glowered at me spewing abhorrence. I cautiously backed away from her terror gathering in my eyes but she swiftly walked toward me.

"You useless," she grabbed the back of my hair and pulled. I screamed, but I knew better…no matter how much I yelped in pain no one ever heard me. It was as if I was trapped in a glass box…no matter how much I cried, screamed, and pleaded no one helped me. Nobody cared. I should just learn to be quiet, it's not like this time will be different…it never is. Nevertheless I consisted on begging with her.

"Please! Please! I'll be a good girl! Don't hurt me anymore!" I implored tears streaming down my face.

Her face was stoic, no sigh of remorse or guilt. She spat back, "Please don't pretend to be the victim you brought this on yourself!" She clutched my hair harder; I could feel my unruly hair being ripped out. I screamed, the pain was too much to keep inside. She placed her free hand on her left ear in an attempt to prevent the noise from reaching her ears. Her grip tightened. I just screamed louder, I could feel the hair coming out. My mother grunted. A hand swiftly smashed across my cheek.

"SHUT UP!" she screeched.

The force of the slap was so powerful it knocked me over, and I fell down the stairs. Each stair knocking and breaking me down further .When I reached the bottom I could barley feel the life in me. I was hollow. The pain was unbearable, too much for my body to handle. My body was splattered with black, blue, and purple. There was no part of me left unscarred; inside and out.

My mother just scoffed as I heard her feet slowly pace up the stairs. My eyes started to water, one tear hit the ground before I slipped out of consciousness.

Is there a feeling worse than hate?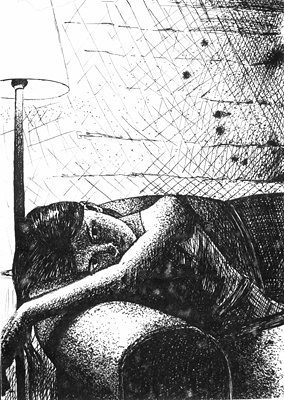 © Elisabeth R., Elmont, NY