Nature's Dance
April 1, 2010
A young girl of six played in an opened field. Her yellow and white polka doted dress fluttered as the wind picked up from the north. Her chocolate colored eyes shone brightly as her laughter filled the air. A lone figure watched the child from a distance, a warm caring smile laced across her aged face.

The child continued to frolic as the figure slowly leaned back onto a tree that reached the heavens. Its long limbs danced in the breeze, back and forth as they performed their ballet.

A sigh of contentment escaped the elder's lips. Her once warm hand opened as petals swirled about. A stray red rose petal landed upon her outstretched fingers. It's silk-like surface lightly grazing her cooled skin. More began to twirl as if performing to an unheard melody only they knew by heart.

The young child stopped to watch the performance before her. Leaves of all shapes and colors swirled about and mixed with the rosy petals. One by one, they descended to the ground, where they piled one over the other with grace, like the performers' final bow.

The young one held her breath as the final leaf made its graceful way down. The elderly woman kept her eyes focused on the patch of flowers that stood tall and proudly as their radiant color outdid the entire field like the stars of the show. Even though many petals had been plucked by the wind, the roses still looked magnificent. Their beauty, always to be, breathtaking and wonderful.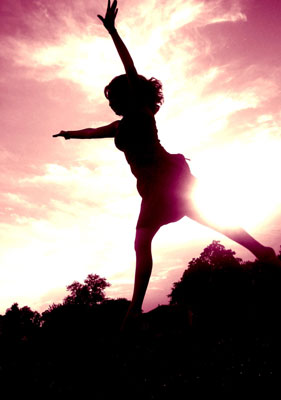 © Martha V., Morton Grove, IL