True Love Chapter Three
March 28, 2010
Three years later
"Alex, can you believe it? Today we're graduating!" I knew that Tom would be so proud of me. I had received a scholarship to UCLA just like I'd always dreamed.
"Gemma! Have fun in LA! Come visit me sometime!!" Caylee screamed. She was going to Pepperdine in Malibu, on a soccer scholarship. I hoped I would see her, but it was too soon to tell. Ann and Kantessa were going to Florida, and they would be roommates once more. Only Alex was staying local. He was going to Stanford.
"Gemma Pauline Blume," said Father Neil as he gave me my diploma. I sat back down, and watched my friends graduate.
"Alexander Bryan Capre."
"Ann Valerie Lasale."
"Kantessa Hope Skyla."
When everyone had finished graduating, we threw our caps in the air, and we all headed off to the graduation party. The 65 of us were going in different directions, but we were all the class of 2013.

Two months later
I was in a sorority, Pi Phi. I loved being in a sorority because I always felt like I had someone to hang out with, even when I was feeling homesick for Minnesota. Lauren, my roommate, also played volleyball, so that helped me a lot.
I saw Caylee occasionally. She was in a regular dorm, but she had nice roommates. I knew she would be okay there.
I never see Ann or Kantessa because they're in Florida. Caylee and I are visiting them over spring break though. Tomorrow I get to see Alex.
"Hey Alex, what's up?"?"Well, I've been doing a lot of thinking. I've been thinking that maybe I shouldn't be so far away from you. I'm thinking of transferring to USC."
"You shouldn't," I said, "you've been dreaming of Stanford since you were little. And now to give it all up for me? It just isn't right. I promise I'll come visit you. Just, stay put, okay?"?"Okay, if you really want me to."

Three years later
Today I graduate from UCLA. I majored in fashion design, and I have an internship at Gucci lined up in a few weeks. On Monday, three days from now, I jet off to Italy. Now, though, I just want to celebrate my achievement of graduating.

Alex
Why isn't she here? Where could she possibly be? I broke out of my thoughts as my phone rang.
"Hey Gemma, what's up? Where are you?"
"Hey, I'm near the mall. I'll be at Memorial in two minutes. I love you!"?I hung up, smiling. Gemma thought that she was watching me graduate. Really, I had graduated the last week, and she was coming here for a different purpose. I was going to propose to her in front of Memorial. Good, here she comes.

Gemma
I'm hiding in my car at the art museum. There he is. Why isn't he in his cap and gown? Maybe it's different at Stanford. I'll emerge from the car once he leaves. Good, he's gone. Here I go.
"Hey love! Why aren't you in your cap and gown?"
"I'll answer that in a minute. Actually, could you go get it for me? Here's a list of directions."
I headed off with the list. I went to Maples, the football field, Hoover Tower, the bike shop, and back to Memorial.
"What was that for?" I asked.?"Gemma, the last seven years has been wonderful. I have one last question to ask you. Will you spend the rest of your life with me?"?"Yes!!! Absolutely yes!!" I couldn't believe it.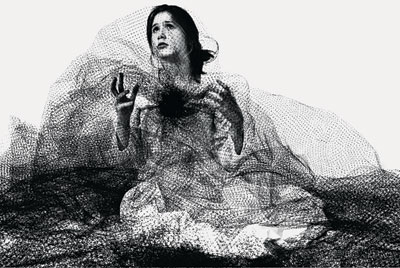 © Susannah B., Greenwich, CT