Keeper
MAG
March 6, 2010
It was junior-year English. His eyes were blue. Well, bluer than mine. Blue enough to be the gravity of my sight. We were reading Thoreau and were asked to imitate the master's style, so I tried to write about him, but I never got past those eyes.

Flurry of canary plume;

Boutonniere blue eyes.

It was the first F I ever received. Two lines were blasphemy for an honors class. I knew. But I couldn't get past those eyes, and it's not as if, four months later, that has changed. I like to tell myself that I'm content with admiring him from afar, that I'm not in a place where I can handle a relationship, and that in high school, it's useless to try these things because a relationship will never outlive its detrimental footprint in my academic performance. But that's a lie. Every time I look at those eyes, I know it's a lie.

After English we are walking, side-by-side to second period. This is the first day that his hand brushes mine, the first day that I see his smile blossom in his clinquant skin, and the first time that I feel hope bat around inside my patched heart.

After the final bell of the day, I vacillate on the threshold of my school's courtyard. I will wait here until 7 p.m., chat with the janitors when they pass, and finish a chunk of my homework. One of my parents will call, wondering where I am, and then he or she will drive me home, in silence, to one of two homes of silence. But as I lean against the door's molding, books splayed across my lap, the crisp April air is a lariat around my shoulders.

I leave my books behind and begin to walk, willed by the wind, the uncut grass kissing my ankles. I sit beneath the tree in the courtyard, and I let myself cry. I swear that his hand has burned a mark into mine, a brand of bitter hope. I rub the spot on my index finger where he touched me in an effort to extinguish the feeling.

"Don't you know?" I want him to appear so I can speak these words to someone besides myself. "These are not hands for you to hold. They are a net for my sin: they have held scissors to my flesh and wiped burning bile from my lips. They have denied my stomach food and found fat on a skeletal frame. They are filled with the shards of my family. They are grappling with my parents' iniquities." My feet barely alight on the ground as I escape the courtyard.

It is days later. After English, I wait behind my classmates as they leave the room. He is, purposefully, the last one out. I have nothing to return as his smile buds again. As I turn away from the door, I begin to speak to my hunched old teacher. She is a woman of 70 with black hair of indeterminate length knotted into a chignon. I try to explain that my counselors are pulling me out of school again, and as I ask for more make-up work, she brushes her thumb across my cheek to catch the tears. I fumble with the note my counselor gave me; I drop it and a small wail escapes my mouth.

As if summoned by the sound, he reenters the room and picks up the paper. He must have been waiting just outside, ear trained on my voice. He reads it before handing it back to me. This is the note to excuse my growing list of absences; it lists my diagnoses. He hands it back to me with a still flowering smile. I begin to cry again when he loops his index finger around mine and looks at me,

Boutonniere blue eyes.

"Thank you," I sputter, emotions broiling. I steal a glance at my teacher, who stares at our escapade peculiarly. I try to offer an explanation: "He's a–'' I pause, unsure of what to say.

"Keeper." She slides her glasses up her nose. "He's a keeper. Keep him around." I turn and look up into his face, and I finally get past those eyes:

Boutonniere blue eyes;

Flurry of canary plume.

Keeper of a patched heart.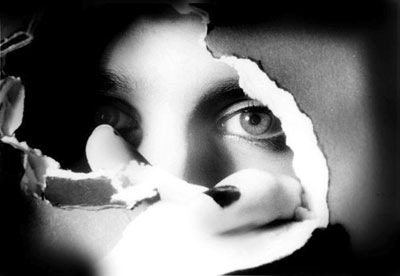 © Tabatha B., Peoria, IL