An Angel in Hell.
March 26, 2010
'We'll run.' Momma whispered in my ear. 'You and me, we'll leave.' Her words were like silk against my skin. 'I promise.' Momma sealed the deal with those two words. She sealed my hope and trust in that promise. Leaving here, that would have been unbelievable. A dream come true. However, its just a dream, boiling away in my head. Momma promised me. You had to keep a promise, don't you? I had always thought so. Until now. She was gone. No coming back. I knew that. She had an escape in which she took, her blonde locks swinging behind her, just like the front door.

How could she leave me, leave me here to rot and bruise under dad's hand? I had thought she was one person who loved me. I thought of her as my wonder woman. Now all those thoughts are all burning up in smoke. All I wanted was to escape along her side. I wanted so bad to leave.

My eyes burn from the tears that leak, one after another, keeping a steady flow. Why does it hurt like hell? I would rather feel nothing at all then feeling this pain. This pain that blooms inside my heart with each broken promise. This pain that expands along my skin with each punch 'n kick.

I remember when we use to be a family. Momma would take me to the grocery store every Sunday, that was her church. She use to love picking out new foods, then giving us a surprise dinner. She was a god herself when it came to cooking. Everything she cooked could have been food from Heaven it self. Back then, dad was working as an English professor at New York University, he loved his job. Even more, he loved mom and me.

He would walk in the door and call out 'My girls!' Always taking us both in one great hug as soon as he made it in the door but then dad lost his job and things started changing. Dad starting drinking and things got out of hand. Momma and him started to fuss, something they never did. After fussing one time, the doors banging and dad drunk off his a**, he laid a slap across momma's face. Her expression was a mix of fear and shock.

From then on, hitting took its place, getting worse and worse every time. Harder. It's been five years since my family was happy. What went wrong? Oh, I have an answer to that. Everything. They say time heals. However, not even do I believe that all the scars on my skin will heal, each has it's own flaw that I will never be able to forget.

I look up at the door, the white paint chipped off and the pencil marks where momma marked my height when I was younger, when everything was okay. I touch the gapping skin on my forearm, dad's art. I'd rather feel nothing at all then pain because I'd rather be six feet under the ground, flying with the angels, instead of an angel in hell. At least thats what Momma had always told me, when things started getting bad, that I was an angel in hell.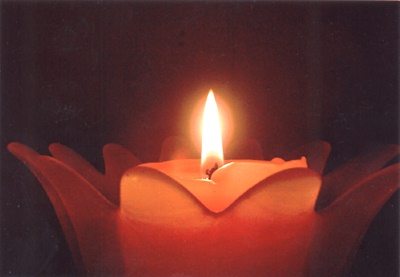 © Sayda C., No. Bergen, NJ