Piece of Mind
March 25, 2010
Yeah, I've read the books, I've watched the movies, and I've heard the stories; but let me just tell you, there is no guy out there that is as perfect as the media wants us to believe. It's a lie. I'm not saying there aren't great guys out there, I'm sure there are.. but what are the chances of you meeting your perfect guy in a world of about six billion other people. I'll tell you what the chances are: 1-0%. And I'm sorry this isn't the fairytale-cliché you want to read, but don't worry- like I said, there are plenty of those out there.
Just so you know I am in high school- freshman year. I'm tall, strongly built, have golden brown curly hair, green eyes, and an attitude. Now tell me, what guy would want a girl who could kick their a**?
Yeah, I've been on dates before. I think the most recent was with Cody Dean. He was pretty cute, and sweet. And even though he only told elementary school jokes and hinted throughout dinner that we split the bill, I was okay with him. We also went to the movies, where, I might add, he didn't even dare try anything, and then we went for a walk downtown. We chatted and had a good time, but we both knew there was no real chemistry. When his mother dropped me off at my doorstep, we hugged, and thanked each other for a good time, then said good-bye. I still smile at him sometimes in the hallway.
And yes, there is that one guy that you want, but can't have. Oh, he seems so perfect in his dark jeans and tight shirts, but you know he might as well just be a dream. And sooner or later, it's time for a wake up call. And maybe we just go for the guys we can't have because we know its just a silly, pointless crush, and we're too afraid to be hurt by someone we might actually develop feelings for. Or maybe we're just to lazy to find someone nice and then have to make an effort and commitment.
And sometimes you think to yourself, as you sit in your room with the music blasting, who wouldn't want me? Hey, I'm cool, cute, sweet, smart, I have great taste in music, and I would make a really great girlfriend. And then there are the times when you look at yourself in the mirror and laugh, thinking who would ever want me anyways?
Oh yeah, and let's not forget to mention the girl you wish with all your heart you could be. You know the one. She's gorgeous: perfect hair, perfect figure, perfect outfits.. And not to mention she's suave and experienced, unlike you of course. The guys all seem to gravitate towards her like bees to honey. But face it, if you look closely, I'll bet you could find at least ten reasons why you wouldn't want to be her, starting with her stuffed bra, permanently damaged dyed/straightened hair, and pounds of makeup caked on her face and body.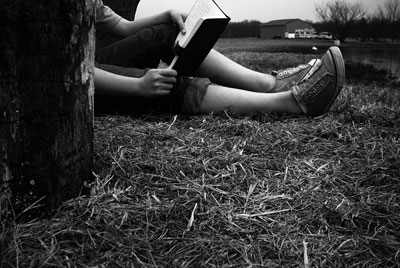 © Kristen D., Kenton, DE