California Life
March 23, 2010
The feelings of dread churned in my stomach as I heard the crackling of rocks under my turquoise Mini Cooper, signaling that I had finally reached my destination.

As I parked behind my mom's SUV, I couldn't help but gape at my new house in Beverly Hills, California. I looked up at a massive, yellow mansion with an olympic size pool, a beach as a backyard, a view of Hollywood, and a never-ending garden circling the house.

"Zoe, why don't you pick out your room and then unload your boxes?" My mom, Gail as I am now referring to, yelled.

"Sure thing, Gail." I called back, not trying to hide the hate in my voice.

"Hey, Kiddo! What are you doing? Ain't it just great here!? I bet Zac Efron lives next door!" My stepdad, Robert, said while patting me on the back.

"Let's see, I am going to try to pretend that I'm not a friendless-loser who just got pulled away from her dad, her best friends, and her ah-mazing boyfriend. I'm also going to tell you that Zac Efron is so last year." I said with a turn on my Prada heels and a sway of my long, pin-straight, brown hair.

I ran up the spiral, marble staircase, fuming. Why did my mom chose to marry that jerk and pull me away from Florida to move to California? Who is that evil!? I thought as I entered the first bedroom. I could tell it was mine from the millions of boxes labeled "Zoe". But that wasn't what stopped m in my tracks. I did a double take, not believing it. The vast room had its own balcony with glass, double doors, a great turquoise bathroom, a large window on my ceiling and a separate nook with a hot pink love seat with zebra pillows! It was my dream room! I stopped myself from touching the pale pink walls as I inhaled the strong scent of wet paint. For the first time in months, I actually smiled.

As I threw the last of my boxes out the door and into our 4-door garage, my muscles ached. I was still beating myself up for talking to Robert with my attitude out loud because then he wouldn't help me unload my stuff.

"Darling! Rob was very hurt by your comment you made to him this morning! I thought I told you to be polite. No young lady should talk to their father that way!" Gail shrieked, impatiently tapping her coach shoes on the wood floor.

"Actually, stepfather. And, how am I supposed to be polite to the man trying to replace my own father!?" I roared back.

"Zoe! How could you say such a thing? Rob has done everything he can to turn us into a family and you should appreciate that! Have you not seen this house? It's gorgeous! You are lucky you have a fath- stepfather like him." Gail said before retreating to finish decorating the den.

I marched to my Mini Cooper, furious- the only mood I have really been in since my parents divorced and I got stuck with living with my mom. My mom- the only person that I don't get along with... well, besides Robert. I slammed the door and sped down our driveway ignoring my vibrating iPhone. I blasted the music, singing along to Rihanna and Britney Spears. As I reached for my phone to see who called, I jerked to a stop as a red Jeep Wrangler cut me off.

"Hey! You in the Jeep! Why don't you learn how to drive before actually driving!?" I screamed.

The Jeep halted and a boy about my age got out. He had medium-length, blonde hair that fell over his eyebrows, deep, emerald-green eyes, and a chiseled jaw.

"Look, dude, why don't you mind your own freaking business? I mean, I could have been rushing to the hospital or something." He said to me through my open window.

"Um, well, were you? I don't think so. And, I could have been killed if we got into an accident." I answered matter-of-factly.

"Hey, you're that new girl going to West Hills High, right? The girl who moved into Marley Mansion... man, that house is sick." He said, changing the subject.

"Yep... that's me, Zoe Brooke. And you are..." I replied back.

"Jake. Jake Logan. I live down the street."

"Cool. Whe-" I started.

"Hey, um I am having a barbecue tonight at my club... lots of people from my school and of course, I'll be there. You should come by." Jake said, with his cheeks turning flaming red.

"Well, I bet I could stop by. But, to make up for this little conflict with your driving, you need to teach me how to surf." I said, pointing to his green surfboard on the roof of his car.

"Maybe. I'll think about it. See you later." Jake said as he got into his car and drove away.

Oh.my.god. I thought once he was out of sight. I grabbed my cell and dialed my best friend, Brittany. I needed to talk with her.

"Hey, Brit. It's me!" I said as she picked up.

"Oh my Gosh! Zoe! I miss you so much! Blake is still mourning your break up. Anyways... what's up? How is Cali!?" Brittany said in her usual cheerful voice.

"Ugh... I so want to kill Gail and Robert. But, all in all, its totally fabulous. You know those extra tickets I left you in case there was an emergency and you needed to come here?" I quickly replied.

"Yeah... Am I thinking what I think you're thinking?" Brittany asked suspiciously.

"Well, see, I need to make friends and I am totally fighting with Gail and Robert and I met this guy... it would be a million times easier if you were here with me for the rest of the summer. Like, your school doesn't start until 3 more months, right?" I said already knowing that she would come.

"You met a guy!? Already!? Haven't you, like, only been there for 4 hours or something?"

"Brit, stay focused. I'll tell you everything once you get here. We are gonna have the best summer ever! I'm scheduling your flight now. It's at 12 p.m. here... so in Florida it's at 3:00 p.m. today. So you have, like, 2 hours to pack and get to the airport. See you soon!" I said, quickly hanging up so she wouldn't change her mind.

Brittany's plane should land at 5 tonight... and if we get to the party at 7, we have 2 hours to get ready. Perfect. I thought as I drove to a salon to get my hair and nails done.

DJ, blow my speakers up tonight, I'mma fight 'til we see the sunlight. Tick tock on the clock but the party don't stop, no... Ke$ha blasted over the beach, a collage of people- dancing, talking, and even swimming.

"So, where's that boy you met earlier?" Brittany asked as we arrived at the busy party.

"Well... I don't really kno-"

"Hey, Zoe. Glad to see you." Jake said, coming up behind me.

"Oh, hey! Jake, this is my friend Brittany. Brittany, this is Jake." I replied, winking at Brittany.

"Nice party." Brittany said awkwardly.

"So, do you know any other seniors that are going to West Hills High?" I said trying to change the subject.

"Oh, yeah. Follow me." Jake said, turning his back to me and walking to the glowing pool.

"Jade! Bryn! Tiffany!" Jake called in the general direction of the lawn chairs sprawled out across the wooden deck.

"Chillax, Jake." A gorgeous girl purred, strutting up to where we were standing.

"Wow! I love your top! It's so... abstract!" Brittany said, complimenting this girl's hot pink tank with white flower designs running down the sides.

"I know. Isn't it beautiful?" The girl replied back, with a little attitude in her voice while rolling her vibrant, crystal-blue eyes.

"Brittany, Zoe, this is Tiffany. And these two girls are Bryn and Jade." Jake said, talking about two other girls behind Tiffany who looked like her clones- all three of the girls had the same platinum blonde hair and size 00 frame.

"Well, this was fun but Jakey and I have some stuff to do... in the cabanas." Tiffany whispered, winking at Bryn and Jade.

My stomach twisted as she came to the conclusion that Jake was dating Tiffany. I knew that she shouldn't get caught up with anyone that would date a girl like Tiffany. Still, I had to fight back tears at the fact that Jake hadn't liked me like I liked him.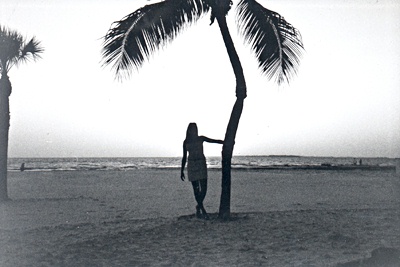 © Kim B., Marblehead, MA