Hurting Everywhere
March 15, 2010
Just looking at all the flashing lights below is enough to just do it. Hailey wanted it all to just be over. Everything was building up and breaking her down. She was ready to pop oxy cotton, H.C., amoxicillin, ibuprofen, and Motrin. Looking at the bottles slowly spinning the lid off the first bottle she realized her dream has became reality she was really going to do it.

Scars on her shoulders have many more occurrences than on her wrists. If they were on her wrists it would reveal that she was depressed and she wanted no one to know that she was unhappy. She wanted no one suspecting and seeing that all the pain is penetrating her soul, her emotions have been shot to hell; her mentality is who gives a s*** nothing matters and her physical appearance lacked now too. She quit caring but wanted no one to notice.

Hailey was so mixed up and confused not knowing where to turn or who to turn to. How can she turn to anyone if not even her own parents were there for her? They of all people should be the ones to love her. The ones to take care of her. Not the ones that bring her down and tear her apart from inside out and leave her to hang. She was so hurt and confused and couldn't see anything now because her eyes were shedding tears as if she was a dog shedding her winter coat.

The clock struck 4:30a.m. and she was still looking down and holding an open bottle. She was trying to feel gods' presence and trying to make everything the same and all back to being better. No one would answer, not even her great grandma. It was all on her to choose what her fate would be. Her fate was in the palm of her hand, would she take them or not was all up to her no help from a single soul.

There was a ton of factors that played into this choice that she couldn't think of. All she wanted was to be free and painless. The best way seemed to be just offing herself. Being a selfish human by taking her own life thinking and feeling so alone so out of the loop and so lost. Her friends were all changing and the minute she got close to someone the up and walked out on her. They would backstab her too. Each and every person she was close to, had the power to destroy her and it seems they all ganged up on her and did it at once because she was alone.

She lost her best friend to drinking and driving; she lost another to cancer, and another to the military. Hailey cannot get a simple hug or even hear their voice. It seems that her family that consisted of 6 people; Nate, Bobby, Ellen, RJ, Calvin and Allie was down to three, Ellen, Calvin, and Allie. She's lost three and only has three left. Everything was rushing through her head all at once.

Slowly sipping water to chase the pills her eyes felt hazy. She felt her vision slipping away from her. Her legs begging to feel like jello. Nothing anyone can do to help now she was falling into the depths of a life after death. She got what she wanted and was going to be pain free. She was gone and no one could do anything to help. Her life was over.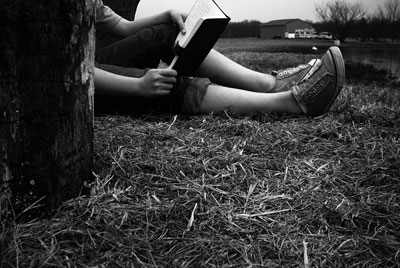 © Kristen D., Kenton, DE