Spin Your Teacup
March 12, 2010
It's here. It's finally here. The carnival is back.


Jon has been hollering at my house for twenty minutes, telling me to hurry up, the carnival is waiting, the big kids are going to hog all the good rides.


Momma is downstairs making breakfast. I guess she forgot the carnival is back.


"Ellie!" Jon yells again. "Are you even awake?"


Finally, Momma opens the screen door and calls to him, "Jon Miller, quit yellin' at my house and come on inside."


I stuff the extra pair of socks inside my shoes as fast I can before Jon can see me. His feet are thumping up the steps. I act like I was brushing my hair.


"What the Sam hell are you doin', Ellie? No one cares about your hair. Come on."


The brush is thrown aside, I shove Jon out of my way, and sprint down the stairs. Momma calls after us to have some breakfast before we leave, but we're already out the door.


"We have to hurry, Momma!" I yell. "The carnival's back!"

***

The teacups. That's what my Daddy and I rode together, when the carnival was in town.


Momma didn't like to ride it with us because she hated being spun around so fast, so it was always just me and Daddy.


Jon didn't realize that I'm at least an inch or two taller than I was yesterday. He doesn't notice much. Boys are like that.


We rode as many rides as we could. Jon nearly got sick after the Tilt-a-Whirl. I threatened to punch him in the nose if he puked on my shoes.


When he starts walking to the cotton candy booth, I run to the teacups. We're not tall enough to ride it, but I'm hoping the sock trick will work.


The man in charge of the ride makes me stand by the measuring stick. The sock trick works.


I find the teacup with my Daddy's favorite color. Green.


"Green for the grass, green for the leaves, green for summer." That's what he always said.


We rode the teacups together last year, before he went to the war. He wrote me and Momma letters every day. But they stopped. Before he left, Momma told me he'd be back. She lied.


I'm on our favorite teacup, trying to see Daddy's face, trying to hear his laugh. I spin us around and around as fast as I can.


I hear Jon yell my name.


"Ellie! Ellie! Ellie!"


But then in my head, I
hear Daddy laughing again.


And then the world stops spinning, and it's black.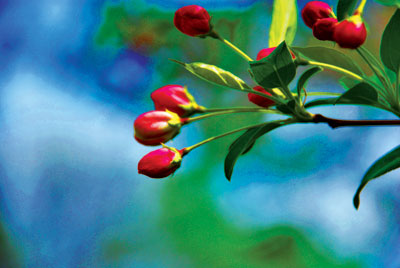 © Hannah B., Princeton, IL