Cookies
March 12, 2010
When I was little, I used to bake cookies. After waiting for what seemed like hours, the cookies would be done. I would eat them looking out on the ocean on the large deck of my family's large California home. Though I only ate about ½ of them because then I wanted to go swimming. But first I had to pull my older siblings out of bed as they did not like to be disturbed during summer vacation. At all.

At first, I would go to my oldest sisters room. When she wasn't there, I would go to my other sister's room. After 20 minutes, I gave up on her. Then I got to my older brother's room. They were awake and ready to roll. So I asked them to take me. "Of course", they said. After we packed up the baskets, we headed out the few steps it took us to get to the beach.

My brothers were awesome. They even helped me with my boogie boarding. We built sandcastles, drizzle castle, seashell castles, and almost every other kind of castle you could make on the beach.

When we finished our castles, we headed out to find creatures of the sea. We found 2 jellyfish! I was so amazed at the boneless creature. Speaking of boneless, we saw an octopus. Incredible1

As we made our way back to our spot, one of my brothers pointed out the fins in the distance. I screamed," Sharks!" and ran. " No, they're dolphins", said my brother. And how beautiful they were. Majestic creatures of the sea, right in front of my eyes.

We stayed out on the beach for hours. We would reapply sunscreen, eat a banana, take a nap, then go splash in the cool water. And do it all over again.

When it was getting late, we decided to stay and watch the sunset. Oh, how breath taking it was. And have a cookie.

Once were back at home, my parents broke the news to us. We were moving. To Maine. Far away from our beach. Not good. I broke down in tears.

When we got to Maine, my mom had us make cookies. She told us it was almost like being back in California. As the years went by,
I never forgot my California. Though I was unable to move back, I continued to make cookies.

And this is the same story my family has been repeating since it happened. Even my great-grandchildren.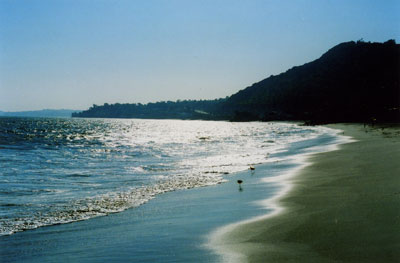 © Adam L., Washington, DC