Western Football
March 11, 2010
Yes! Screamed Shane, he got accepted to Western Michigan. Shane plays football and he plays the safety position. He graduated from Mattawan and he will go to Western Michigan for collage. After Shane got the letter from western he got in his small white s-10 truck and went to the Mattawan football field, ran up and down the field.

" I can't believe that I will play football for a collage team," Shane yelled.

He ran around the track 5 times sprinting, he stopped because he was gasping for air. After he was done he got in his truck and headed back home, Which isn't that far away. Shane felt a vibrate on his leg, it was his phone, he picked it up.

" Hello," Shane asked.

" It's Pat," Pat answered.

" What's up,?" Shane asked.

"nothing, can you hang today," Pat asked.

" No got to got to sleep for tomorrow ," Shane answered.
Shane didn't get any sound back so he ended the call as he pulled in the driveway. He felt tired so he went to bed early.

The next day Shane woke up at 6am to go to western, it was his first day. He got dressed, took a shower, and ate some breakfast. Then marched out the door and got in his truck but had to go back in the house because he forgot his backpack. Took his bag in his truck and headed of to western. After about 20 minutes Shane got to Western, he got out of his truck, and headed to class.

On his way to class he heard a guy say come here, he heard it behind him, so he turned around.

" Do you want to play football here," the mysterious guy asked.

" Sure, but what is your name," Shane answered.

"You don't need to know my name, just show up at the field," the guy whispered.
Shane shook his head and went to class, the time flew by because Shane fell asleep at the beginning of class.

He jumped cause of the bell, he took his bag and headed to his truck, put his bag in the back of his truck. Shane went to the field and saw a lot of other people, that mysterious guy was their, in the front of the whole crowd. He gave a speech and told everybody that his name was Tucker, he was the head coach. In his speech he read a list who will be the starting at their position, Shane is the starting safety. Tucker also told everybody that they have a football game against their rivals Central Michigan tomorrow!

What… tomorrow, that's not a long time to prepare for a football game, Shane thought in his head. It was already 8;37 pm, by the time he got home and got something to eat he would probably got to sleep. Which he did, the next day he woke up by a phone call. It was Tucker which told Shane to go to the field now, so Shane did. Tucker made everyone get on their pads and their jerseys, it was only a matter of time when the whole team ran out on the field.

Shane was nervous, he was sweating like he was in the desert. It was time for his team to take the field, they ran out their like their was no tomorrow. Both teams got on their sidelines, then the captains went on the field for the coin toss. Central won the coin toss and will receive to start the game, after that play was over, Shane and the western defense took the field. The first play Central ran the ball towards Shane, Shane ran to him, he was about to tackle him but an offensive lineman nailed him.

Shane's arm took the fall but he felt a lot of pain in his arm as he got up, he ran to his sideline. The medical staff told him is was really bad, so they took him to the locker room. They ran some x-rays on his arm, they told him you can play but you might injure it more so what do you want to do? I'll play Shane told the medical staff, so he returned to the field. Their was almost no time left, but Shane wanted to play.

Shane's team was down by a 3 points when Central was about to score another 3 points. Shane went on the field with 37 tics left, the next play Centrals quarterback threw it towards Shane and he caught it! He ran through a couple guys, one guy had him but Shane shoved him off with one hand, with one guy to beat he jumped over him by a foot and scored a touchdown. The clock was at 0 Shane scored the winning touchdown, you couldn't hear anything because the whole crowd was screaming at the top of their lungs. Western's quarterback told Shane that was amazing, after that game Shane always wears a hat that had western on it and had a cast for his arm.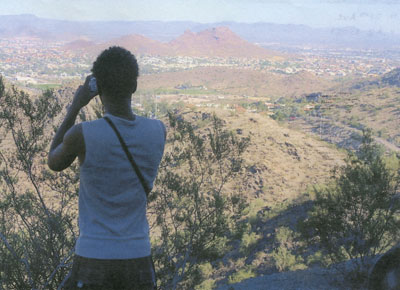 © Rashid E., Phoenix, AZ