Gone Going
February 20, 2010
Sure. I got problems.
Although not the ones you may think, still problems.
My predicament involves trust.
Because of them being liars, how will I EVER know who to trust?
He said, she said it ultimately is all just a game,
but am I willing to play?
I sometimes wish there was a way to go back.
There are certain circumstances in which we feel a time machine will be the upmost helpful
but is it the answer?
Isn't it best to just face things head on?
Lately I've been avoiding everything.
Or am I simply recognizing what's right there.
Then again, when I think of it, it's messed up on so many levels.
I've come to realize that sometimes, the people you think care the most are the ones who care the least,
or care only if there's something is in it for them.
Is it possible to be this evil?
Hell, we all are.
I deserve love don't I?
And I have to admit, I get it.
Nevertheless, I want more.
By nature we're greedy. Every single one of us
So is that what I'm being?
Greedy.
Greedy for love and affection, for MORE love and affection.
Is that something I have to work for
or will I just get it.
Get it
Got it
Gone
In the end that's where everything ends up being… nowhere.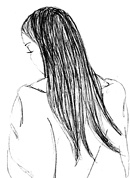 © Miranda B., Neosho, NY