Unfortunately Excellent
February 27, 2010
Wednesday rolled along all too quickly for me to handle. I wanted- no, needed- more time to relax myself and fill up on loads of carbohydrates. This was a time when I wished I could roll back time and just quit cross country. Relinquish distance running before the idea of me running in place of the top runner in the prestigious, yearly meet floated above my insane coach's head.
He knew I put cross country towards the bottom of my priority list. I decided to join the team so I could stay in shape for what mattered most: basketball, my first love. I could easily stand at the free throw line and swish baskets all day long. After all the days, months, and years of practice, I eventually worked my way up to the MVP spot. Every girl would die for my respected spot, but they lacked the work ethic and true desire. They wanted the fame, as well as the front page of Sun Times. Cleary, I was towards the top and did not want to lose my passion and skill because of running.
Unfortunately, my talent somewhat carried over into cross country, causing my coach to depend on me. I just wanted to stay in shape for crying out loud! Not dedicate my athletic performance to the dreaded sport of pain and arthritis! However, I had no choice but to feel the whisk of the wind pulling back my loose strands of flaming red hair. Maybe, just maybe, I was starting to love cross country too.
When I ran, my dumbfound teammates gawked at me in utter amazement. Honestly, I wasn't that good. The reason for this attention resulted from the annual trip to Disney World, Orlando. The top girls from my team traveled there in search of a big Mickey Mouse Trophy. The next best girls on the team hurt themselves from excessive running, unlike me. I detested running, but I had to do what I had to do for basketball.
Wham! There went the top eighteen girls. That was my cue to run the best race of my life because I fell in line right after those poor, injured girls and lucky varsity runners. Regardless, two things could be proven by fact: I basked in the attention, soaking up every last bit of it, but my sweaty hands refused to stop clenching and unclenching.

I loved the spotlight but cringed every time I thought about how I would cost our school the usual recognition of finishing towards the top in this meet. I couldn't think like this or it would come true. Alright, how about this: I am going to blow bystanders minds and win myself a nice sparkling trophy. I could do it. It was a simple game of basketball without a ball. I could run and I looked fantastic compared to the lethargic girls who gaped at me every time I would pass by them.

I walked up to the starting line sweating like a pig. If I bombed this meet, it would be ok. The world wouldn't tumble to an end. It was an opportunity, not a punishment. My coach picked me for a reason.
My lips began to curve upwards and a big, luminous smile brightened my face. I would go run the best race ever. Actually, as time ticked by, I began to bubble over with excitement. My anxiety and nervousness crept away as positive thoughts flooded my mind. Wednesday could easily turn out to be my favorite day of the week.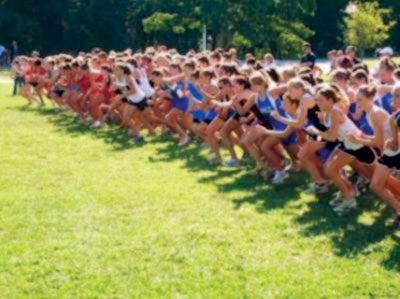 © Ashley R., Charlotte, NC