Smoke in the Asylum
February 23, 2010
The day of Everton high school's prom was the same that valedictorian, Abby Busoni, was arrested. The school was abuzz; she was wanted for the murder of a local hero, Lieutenant Shawn. The Lieutenant's body was found in a small ditch, the blood had splashed everywhere into gouts from a gun shot wound. He did not have his tags among his possessions. However, the girl says she knows nothing about how Shawn came to surcease. Her story began with a simple cigarette.


Abigail Busoni stood outside the Bostor club; the club was nestled in one of the many streets that massed into the city. It was a dirty street that when the wind whistled it turned into barren and dark place, which are surfeit in the area. Looking back on it Abby should have know the desolation was a missive for trouble. The night could have almost been the harbinger to the slow unwinding of the girl's life. Then again, youth is jovial, and pain and death seem far and nonexistent. Abby looked down at her friend Lissy, the girl was busy emptying every chalice of alcohol that she had drunken earlier. Abby held her friend's long hair back and grimaced at the dire scene. In fact, her whole night had been going wrong. Her boyfriend, Adam had covertly started her in a parlay, and then went into how she was leaving for college. It was the major issue in their relationship; Adam had spurned the idea of her going away. It had built malevolence between the two for months. Abby had been in dire dolor through the whole thing, she hated Adam being mad; however, she had no intention on staying close to home. Abby's revive was broken by another of Lissy's bout with alcohol. She was beginning to regret participating in the wassail at all. Need less to say Abby was not in good mettle. More so Lissy had passed out, and with her size, Abby knew she was in no good position to move her. Abby didn't want to leave Lissy or go in and face Adam; however, the street held no true appeal. Abby grudgingly looked into her cup of stale, old beer lees, sighed, and sat next to Lissy on the curb. As Abby stared at her unconscious friend, she heard the approaching footsteps. She prepared herself for a clamorous fight with Adam. She had her argument of equivocate to relationship she didn't think would work and looked up. It wasn't Adam but a boy. He looked early twenties, with longish blond hair and pale, ice blue eyes. Abby took a good second to take in his ripped muscles and strong stature. She took in his shaved face, the pendent that hung from his neck, and the cigarettes butting out of his back pocket. The boy screamed danger, Abby thought that he put up a persona of a hell's minion, dangerous and beautiful. However, she wasn't religious, and was p***ed at Adam, so she decided to disburse her anger into flirting with the boy. She stood up making sure Lissy wasn't about to move, Abby figured the girl had a few shots of unconscious still, and walked over to the boy.


"Hey can I have a coffin stick?" Abby tried to conjure up every thing Adam hated and put it into her movement. If there was one thing she was sure, this boy was not Adam.

"You know these things will kill you," but the boy took out his pack and passed her one. The problem was that Abby had never smoked a cigarette; she'd thought he wouldn't part with his. She tentatively put the cigarette in her mouth and leaned up against the wall. The boy looked at her and laughed.

"What?"

"Nothing, it's just generally, when you smoke you need to, uh, light it first." Abby felt her cheeks color, but put the cigarette out to be lit. While the boy was paying attention to the tip of her cigarette, she looked at him. God was he hot. His face was smooth and clean and his eyes were gorgeous. She hoped she didn't start to prate. Unthinkingly Abby put the lit cigarette into her mouth and took a long hard drag, and nearly coughed up a lung. Abby quickly cleaved to the brick wall and just about threw up as much as Lissy had earlier. The boy was laughing; well, he was until Abby sent him an evil look.


"Suu… sorry" the boy finished his deep laugh with a snort, which made Abby requite with her own raspy, soar throat laugh. Abby soon realized that her own laugh was the only one echoing off the wall and looked up to see if she her palter had offended him. However, she saw neither chide nor anger in his eyes, but pristine interest. Abby felt her cheeks go red and hoped it was to dark for the boy to see. He smiled took her cigarette, put it out on the brick wall and stuck it behind his ear. He said something about it being a recession that Abby didn't catch and smiled back at Abby.

"Name's Gabriel Shawn." Gabriel offered her his hand. Abby sat still a few oblivious seconds and then offered him her own hand and name. Gabriel and Abby talked, and talked, and talked until Abby heard a slight groan from the curb.

"C*** Lissy!" Abby ran over to her friend. Gabriel walked over with her. God she hoped he didn't upbraid her for Lissy's drinking. He seemed like such an epicure to care for drunken girls.

"What happened to her?"

"A couple shots of tequila and a few Bloody Marys'."

"Jees sounds like world war three." With Gabriel's joke Abby's worry were abjured. Much to her surprise Lissy rolled over and fell back to sleep.

"Hey, you want me to take you two home?" As much as Abby didn't want to leave Lissy outside any longer, and getting a ride from a stranger would make Adam extremely mad. She wanted to feed her avaricious feeling and sit here with Gabriel. Therefore, she shook her head no she wanted to tarry on their encounter. Gabriel sat down on the curb and they began to talk again.

They kept the conversation light in the beginning, and then moved onto family (Abby was surprised to learn Gabriel wasn't in contact with his, something about they think he's committed parricide by moving to the city), and finally current events. Abby wasn't a big politics buff, all she really knew was there is war going on and health care sucks. She decided to talk about the first subject thinking Gabriel would find it more interesting. She should have listen to the adage that you never talk politics with someone you just met. However, as soon as she mentioned the war it almost seemed as if Gabriel contracted some sort of distemper. He began to shake as if he was suffering from ague. Abby stopped talking, thinking she was baiting this feeling on and looked at Gabriel.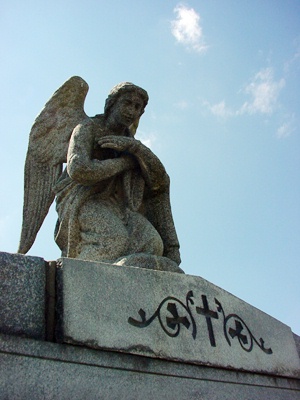 © Greg K., New Lenox, IL