Into the Spotlight
March 1, 2010
I take a deep breath. It didn't help. My stomach fliped a few times then ended in a uncomfortable flutter. Butterflies.
But under all of this came excitement, determination and exhilleration.

Acting is my drug, the reason I lived.

No matter how many times I act on stage there is no getting use to it. Weather Shakespeare or Oliver Twist, my heart pounds, threatening me to overwhelm the very existance of my small, minuet form in this creul unforgiving world.

The music starts to play, I close my eyes slowly, trying to block out everything, it was only me and, wait... not me, I am my charactor, a beautiful damsel in distress.

Not a person with a mother, father and little sister who thinks she owns everything.
Not a teenager with a guy she has a crush on.
Not, a determind young girl with a life ahead and a history behind.

A character, the only thing that exisits. Nothing else, no one else.
Someone pats me on the back of my back.
It is time.
I step out, for good or ill,
into the spotlight...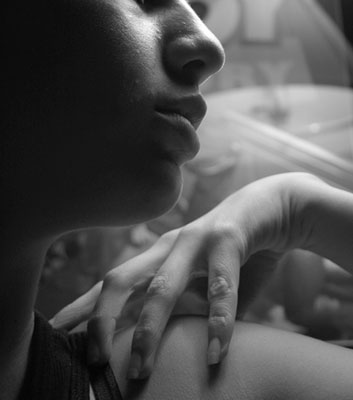 © Rebecca B., Santa Clara, CA