The Cloaking Willow
February 22, 2010
He caressed my face and whispered delicately in my ear "I'm sorry we can't be together," as dawn broke across the sky.

A tear cascaded down my cheek as I started to stand up. I didn't want this, every day we hide our passion and our love for the sake of our parents. German blood ran through his veins, as Jewish did mine and our parents resented that.

He helped me up and gazed deep into my eyes, the mutual feeling filled the air.

"We won't have to hide much longer. Although, I might miss this place." I laughed and he smiled as he succeeded to lighten the mood. He was right, this place was beautiful, and I would miss it too.


The willow branches swayed in the light spring breeze of dawn, as light broke through the limp limbs. The light went through and made beautiful patterns on the Earth and our skin. There was a perfect unearthed root of which upon we always sat. It was the perfect place for forbidden love to hide. On the inside you could see out, yet from the outside you could not see in. The leaves swaying from the vines reflected the light to hide the secrets within. It was a perfect place for two like us cloaked by nature's beauty. That is what we called it our willow cloak, that nature had gifted us with. It was hard to believe that on ground like this could exist such hate as our parents bare.

"We can't tell our parents," I finally noticed. He had turned around and he turned back to hold my face and look deeply into my eyes.

"Oh, won't you trust me? I have a plan." His eyes were so sure and so pure that I instantly trusted him.

"I love you." I said with a smile and a faint blush.

"As do I." He always spoke in such a lyrical way that made everything sound romantic. We looked at each other for a moment more, as he began to kiss me and our eyes closed in sync as our lips touched. The light breeze blew my hair off my shoulders as to sweep it into the wind.

Nature always made things better for us; it was always on our side.

"Elizabeth, we have to go, father is waking and mother sent me out to search for you." It was my sister Evelyn, she was my look out. She didn't like the fascism; she was very wise for her age.

I turned my attention back to James and the goodbye lay aching in his
light blue eyes. He kissed my gently on my lips and bid me farewell.

My sister and I walked back to the house, "Aren't you afraid of getting
caught, mother and father would disown you if they ever knew."
Evelyn stared at me innate curiosity.

When I got back Evelyn followed me into my room. The maids had put my clothes for the day out on my bed; I changed into them before looking into my mirror. My wavy hair hung over my shoulders, and my heart-shaped face had a tired look to it. My light brown eyes scanned the days clothes upon me and a sigh came from my mouth.

"Elizabeth," my mother called from out the door lightly tapping.

"Come in mother," I said in a light sigh.

"Well, Elizabeth doesn't that dress suit you! Though you must take it off, I didn't think you would be so mangy. Obviously an effect from your likeness to the outdoors. Anyways you must take a bath; the maids will fix your hair and make you presentable for the party tonight." I looked down at myself I was definitely clean; there wasn't even a smudge of dirt. Then my thoughts drifted to the party, the third this week. My mother was socially-obsessed, and we had to look like the ideal family. We had to be perfect, because if my mother had a shred of disappointment she would stay in her room for weeks.

"Who's coming?" A hope went through me that she would invite James' family, even though she hated the Germen my mother was too social and too afraid to have someone against her she would never voice it to others than me, my sister or my brother and father who agreed with her. She believed Evelyn and I felt the same way, yet we hid that we didn't.

"The Kullers, the Harrisons, the Geralds, ugh and the Blauvelts… " The last name she said in a disgusted tone, and I had to hide my excitement. I wouldn't have to wait till morning to see him.

At that she left me to get ready for the day.


The "soirée" was small and calm, and held in our backyard. It was beautiful, but it might have been the fact that James was there that made it better.

We decided to sneak out farther into the backyard. I had my sister ready to come get me at any alarm. He held my hand as we walked to the garden, and I smiled elated by his presence.

He stopped by a rose bush and picked me a beautiful rose, and smiled.

"Awe, thanks. It's so beautiful." He laughed and it turned a little nervous.

"If they were as beautiful as you were, I would pick them all for you." I smiled and looked at him; he had a thoughtful expression to his face with a nervous hint. He stopped for a second and looked at me, he traced the side of my face with his hand and I closed my eyes. He dropped his hand and a nervous laugh fell from his mouth, I opened my eyes slowly as he looked into my eyes. His light blue eyes shimmered in the moon light, with a light reflection of me. There was a slight nervous crease between his eyebrows and his mouth was nearly open. The look in his eyes made my heart beat twice over, as he came to a kneel.

My thoughts ran a mile per second to my sister, my mother, my brother, my father. Would they approve? What would --

"Elizabeth, I want to be with you forever, I want to spend the rest of my life with you." My mind went blank, it was so sweet, and I knew my answer. He ruffled through his jacket and looked back up at me with eyes saturated with love. The moons shimmer over his eye only made it more intimate. "Elizabeth, will you marry me?" I took a deep breath in only one word came to mind yet it wouldn't come out.

I took another deep breath in, helped him up, and looked deep into his eyes and whispered, "yes." He slid a beautiful ring onto my finger and my entire entity welcomed it. We laughed and he kissed me with such joy and passion.

Then the thought entered my head "how?" I said and he looked at me confused.

"What do you mean?" He said his voice broke twice and his eyes were filled with pain.

"No, not that! Just how? How, how will we do it? They don't understand James! They never will, h-how," I started to cry into his chest.

"We will find a way, as long as we are together. I will figure it out just trust me." He soothed me, and I felt better. I could trust him with anything, including this.

"Elizabeth, it's almost time for dinner! We have to get back now!" Evelyn whispered.

We started back and he wrapped his arm around my lower back. Evelyn looked at us again and again. We snuck back into the party, and Evelyn brought me to the side. What happened you too are different, in a good way of course yet I don't know how? Please put me out of this misery, tell me?"

I thought deeply, if I could trust her with the relationship. I could definitely trust her with this. Could I? "When we go to sleep come to my room, then I will tell you," I said.

The rest of the party past I a blur, my thoughts and doubts filled my mind as I tried to act normal. Finally the party was over, we gathered at the welcome room to bid our guests a proper goodbye. As James came over to me he squeezed my hand and whispered "the willow?" I smiled and nodded.

My mother was proud of the party she hosted and bid us goodnight. My sister went to my bedroom and begged for the truth.

"Well, Evelyn. You must swear not to tell." I said weary.

"Of course, I swear on my life I will not tell a single soul." She said meaning every word.

"Well, he, James asked me to marry him--"

"What did you say?" She cut me off as I was about to say the answer to said question.

"Yes," I smiled and she looked away. She was puzzled, "What is wrong?" I said utterly afraid of the answer.

"Well, I can't think of how you would go about such a thing? Our parents and his would strongly disagree to such a marriage." She was right, but so was James he would find a way.

"James will figure it out, he promised." I said sure of James.

With this she said goodnight with a confused indent of her brow.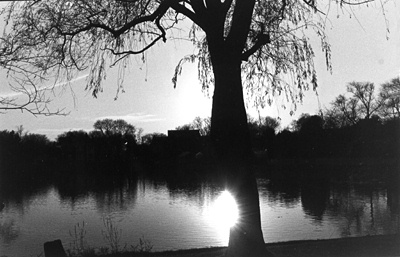 © Chuck K., Marblehead, MA