Release
February 2, 2010
When I open the door, the smell of weed wraps around me. It sends me into fits of coughs right away. I swiftly turn into the first room of the studio and pull off my shoes and sweatshirt, revealing a tight red tank top. Trevor marches in, over to the other side of the room and shuffles around on the iPod for a song. A low, contemporary song begins playing from stereos on the walls all around me. I sit down and stretch out leg's length away from the other people.
We start with warmups. All of us roll of heads and our hands while spreading our legs apart as far as we can. Mine fall into a full split. In fifteen minutes we complete all the warmups we need and start the routine. I line up on the right side of the room. Half of the class follows me, half moves swiftly to the left side.
The semi complex piano music of Evanescence's song "My Immortal" that I hope to learn in my piano lessons as soon as I'm finished with Bach's Prelude 1 starts to play. We trot out, making a two circles, the left group on the right side, the right group on the left side. All of us collapse gracefully onto the floor and lie down, the beginning moves of our routine. Throughout the routine the moves get more angry, violent. We jump, shake, slap, and fall.
I'm one of the only ones putting facial expressions with the song. In the beginning, I have a look of sadness, but slowly through the song my expression grows into a look of pure agony. I throw my head back and my body into an arch.
Before I even notice, lyrical class is over. This time my expression isn't fake, the sadness is real. Dance is the only time I can get anything out. Through the rest of the week, my feelings will get pent up inside me, until next Monday, when I can do it again.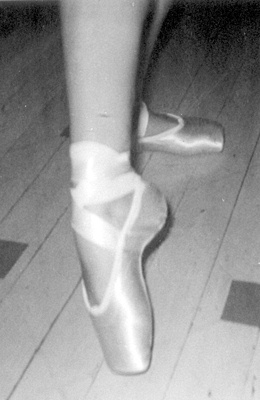 © Amelia B., Philadelphia, PA