Sarah's End
January 28, 2010
Sarah stood there staring at the familiar stranger. She once knew her very well, but now everything with the girl had changed. She was once happy, practically glowing, but now that light was turned off. It seemed as though it was off for good. She wore nothing but a black bra and white shorts, the same as Sarah. Usually the girl covered her entire body with long sleeved shirts, hoodies, and make up. But today she let everything be shown, every bruise and every cut. Sometimes she faked a smile just to get people to stop getting in her business. Her cheek had a bright red hand print covering almost the entire left side of her face.

Her face and stomach covered with purple bruises, eyes sad and filled with tears. Feeling a tear run down her own cheek she wiped it away quickly. The girl did the same gesture as Sarah wiping her own cheek.

The girl just stood there staring at her. Sarah stood there as well nothing on her was moving besides her chest as she breathed in and out. Each girl lifted their hand and pressed it against the others hand. Gasping lightly Sarah looking at her hand it was so cold. Slowly each girl moved their hands away and let it drop to their side.

The girl followed Sarah's every move. It was starting to frustrate Sarah. Hearing a knocking each girl looked over towards where it came from. With the girl distracted Sarah turned and raised both of her hands over her head as was the other girl. With all of her strength Sarah hit her as hard as she could making her shatter into millions of little pieces. As the pieces fell they caught Sarah's hands and wrists. But she didn't mind this is what she came to do. Looking down at her wrists she watched the crimson blood flow down her arms and off her finger tips and drip to the floor.

She stayed standing until everything started to dim and blur. She dropped to the floor and everything turned black. With that she died laying in a pool of blood and the shattered remains of the mirror.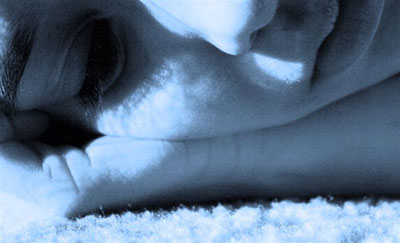 © Paula B., Katy, TX