Keeping up with the Exerjian's
January 31, 2010
"We are driving up to Orange County today to watch your brother's football game" my dad says. Not exactly how I would like to spend my Saturday, but whatever, I figure complaining will only get me in trouble. At least my sister-in-law, Erin, will be driving up to Orange with us. Maybe it won't be so terribly boring.
Before we climb into the car to drive up, we must first drop by a family friend's baby shower just up the street. Because there is nothing I love more than those awkward hello's from distant and strange relatives. But I go, and feast on hamburgers, chips, and cookies. My mom sips on her champagne, and my dad throws back some brews with his friends. The pregnant host calls out that it is time for the raffle, and everyone should pull out their tickets in order for the numbers to be read. I do as I am told, and what do you know, I win.
Oh, and it keeps getting better and better, I have a choice as to what my gift is… either a basket full of fine cheeses, or a bottle of Bailey's and coffee grinds. Clearly, I choose the Bailey's, and smile at my mom's face of disapproval as everyone laughs because it's so funny that the 17 year old would choose such an age inappropriate gift. Eventually, we say our goodbye's and make our way back home from the baby shower. My mom scolds me for embarrassing her, and my dad chimes in every so often with "Listen to your mother".
When we get back to my house, my parents crack open my bottle of Bailey's and make iced coffees.
"Nikki, why don't you drive since your father and I will be drinking."
Hey mom, what an excellent idea.

So we all climb into the car, me and Erin in the front seat, my parents in the back. When we are driving by Oceanside, my mom suddenly yells out that I need to follow the three second rule and 'get off the car in front of me's tail'. My dad gives her a weird look because clearly, I'm about 500 feet away from the car in front of me.

"Mom, what are you talking about" I say sarcastically.
That just sets her off. She starts yelling at me nonstop, and I am forced to sit and listen to it. I think about the fact that my parents are drunk and angry in the back seat, and my sister-in-law has buried her face into her sweatshirt because she can't stop herself from laughing. But if I am going down for driving 500 feet from the car in front of me, than she is going down for laughing at my mom.
So I say, "Mom, stop yelling, or I'm going to turn this car around, missy!"

This makes Erin laugh uncontrollably, and my mother yells at me even more. But at this point, I've learned to tune everything out. The arguing continues until we reach San Clemente, where Erin suggests that she and I should get matching tattoos on our feet. I watch my mother's eyes widen, and I embrace myself for the next hour of lecture. I think I want to throw myself out of the car.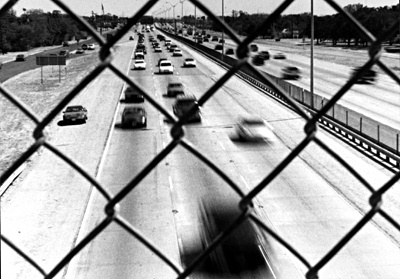 © Matt B., Highland Village, TX