Non-Existant
January 30, 2010
Running. My heart against my ribs, my face against the wind. Me against the world. I was running.
To them, I was non-existant. To me, I was all I had.
Leaves slashed out at me and the moist forest floors attempted to capture me. But was too quick. It was like...
I wasn't even there.
Screams signaled that I had been sighted. From the jungles of Africa, a small, white dress is easily spotted. Before it was the most treasured thing I had. Now it lay in shreds over my body.
"It's Aisha! It's Aisha!" I snapped my headto the side. An arrw flew from within te mob of people and carried itself only inches from my chin.
I had to run.

I had escaped from being traded. I was not an object.
The dogs now ran, barking and barring teeth like the rabid animals they were.
A shriek escaped me. I had tripped. The dogs hurried away as a man approached. His eyes daarted over everything, never holding still.
I lay there, shaking. Scratches, bruises and gaping wounds were seemingly painted onto my body. My knotted hair circled around and carassed my shouldars.
The man's eyes finally met my terrified ones. His now plundered into my mind as if reading every word, every thought, every vision I have ever had.
Soon, my vision of him disappeared, waiting for the ax to come down on me.
But it never did.

My eyes opene. He was still reading me. Another man. He was impatient. Grabbing the ax, the first one cried, "Wait! No!"
I felt no pain. The heavy weight in my head faded off. The image of the two men argueing turned to black.
They wanted me gone, and little did they know...

They set me free.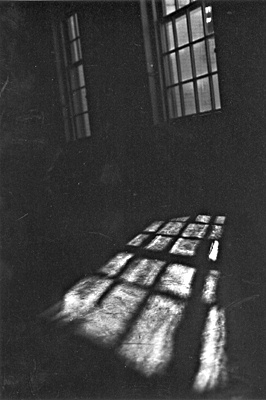 © Mary A., Fullerton, CA