That Was Close
January 29, 2010
The day started off normal as can be. The first flank went through Al A'Zimiyah, Baghdad and I took our flank through the Azkazimiyah, everything looked fine. So we met up near the outskirt of Baghdad and we played a quick game of tackle football. After we finished we got into the humvy and headed back to headquarters along the Tigris. At headquarter I got to see my good pal Sgt. Popolusio, we went to rival high schools but we were friends because our mothers worked together and were friends. We cooked some burgers on the grill and read each other's letters we got from our wives and his little girl Annabelle.
On the loud speaker General Hodge Muncher called in the first platoon into his base and told us that we were being shipped to Afghanistan in the morning. I honestly couldn't wait because I've been in Baghdad's base camp for about two years and haven't seen much action. I went back to the bunkers and had lied down on my cot trying to imagine what actual combat will be like.
The roaring of the chopper woke me up at 0 four hundred. Sgt. Popolusio and I pack up together and head up to the flight deck with our six privates that are coming with us. And we get acquainted with our pilot Andy; he's a pretty funny dude. A few hours into the flight Andy showed us to the left a chopper was following us and I could hear the propellers roar loud and proud. We are about to land and I hear a big explosion within 50 yards of us. Andy shouted "STAY DOWN", so I crouch in my seat, the Taliban must have known we were coming.
All I can hear is RPG's and the explosions of the fallen chopper and the warning siren came on in our chopper which made me think we are going down. I brace myself as much as humanly possible. Andy is going berserk trying to figure out how to keep the chopper in flight. I can see the Taliban come in great numbers on horseback. I honestly didn't think we were going to make it and as soon as I think I'm going to die, Andy whips the tail of the chopper facing towards the Taliban. Somehow, someway we managed to get over a sand dune about six hundred yards away from the crash site. Sgt. Popolusio, six privates that are with us, and I get out of that chopper as quickly as possible. We rely on our 44 magnums because all the heavy artillery was in chopper two (the one that got shot down). We now know it's over, so I take out the picture in my pocket of my wife Amy and my two sons Jackson and Brad. I hold it as tight to my chest as I possibly could and get ready to fight for my life. All of a sudden I hear a predator missile roar in and totally annihilate the entire enemy fleet.
All I can hear is the cheering from the platoon and I and Sgt. Popolusio brace each other. And all I can think to myself, that was close.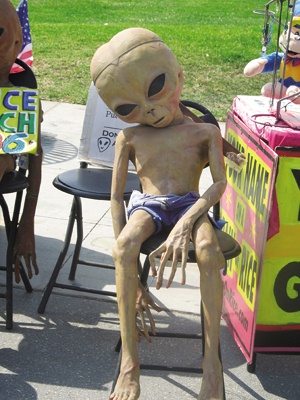 © Brian G., Phoenix, AZ