Abuse
January 24, 2010
His hand had come in contact with my face for the last time, that which I was sure. I stood up too fast, and I could hear the clash of the brown chair colliding with the floor. My hand clutched my right cheek, and the familiar stinging assured me that red skin lay underneath. Normally tears would have flooded my eyes as I endured his wrath. Not today.
My eyes bore into his, and if there was an ounce of love in them, I would have seen it. I only saw grief, rage, and alcohol. I couldn't control myself, as I yanked the chair off the ground and smashed it in into the floor a few feet away. A leg broke off, and I returned my gaze at the man who stood across the table. This man was no longer my father, had never really been.
"I am DONE!" I shouted. "You will never touch me again, see me again, or speak to me again!" I raised my voice with each phrase. "I made excuses for you, after mom died, but you never deserved them! It's been five years, and nothing's changed!" I accentuated the five. "But I have!"
His brows furrowed together as he raised his arm, and his mouth opened as he sucked in air. He was just about to smack me, when I let it out. All of it. "NOOOOO!" I bellowed. My legs buckled at the intensity, and the defiance stopped his arm short. I stood up, and as I looked into his stunned face for nearly half a second, I knew what came next. I prayed my efforts put in to make the track team would save me. I had to be fast. I had to be really fast.

I flew through the kitchen and bounded up three stairs before I could hear his footfalls smashing into the ground after me. As I reached the top of the stairs, he was already up half of them. I sped around the railing, down the hall, and plunged into my room. I almost missed my bag, all prepared for me. The window was preset to be open. As he stomped into the room, both my legs were dangling outside of the house. "Do it now!" the voice in my head screamed. I pushed off, and fell through the air. I safely hit the backyard ground, and tore up the freshly mowed grass. As I sprinted down the road, I knew I was forever free of this abuse.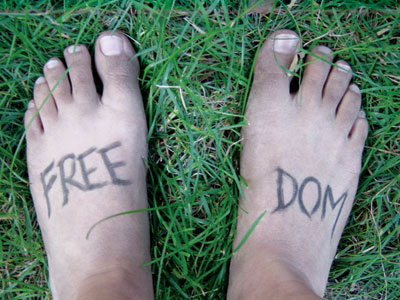 © Anna B., Northville, MI