Complete Darkness
January 22, 2010
Darkness....
Complete and utter darkness. There's nothing around me.
Just completely down in a hole with no one here by my side. All alone by myself. Why am I here? Why was I chosen to be here? Why not someone else? Why does this happen to me? I went for a hike in the Rocky's and suddenly there was an earthquake and a rock slide chased me into this hole which was covered by a rock after it ended. There's nothing in here just complete utter darkness and the feeling of running water softly going across my feet and running off into this dark abyss. I don't know how long I'll be in here but for me it already feels like an eternity.

Day 2:
I'm already getting used to the lonliness here but I'm starting to get extremely hungry. I'm beginning to think that I may have to gnaw my arm off just to get something to eat. I softly chuckle at the thought, but I soon realize that it's becoming a very realistic notion.

Day 3:
My stomach growls loudly as I try to leave out the idea of literally biting my arm off for food. But the hunger becomes too much and I start to bite at it. But my teeth aren't powerful enough to bit through to the bone. I find that food is scarce but wait, the running water! Maybe there is a fish swimming in the water. I throw my hands into the cool liquid but to no avail. There is no fish to be found in the water. It makes me sad but somehow I kind of figured that this is how it would happen.

Day 4:
I'm beginning to go insane. All of my thoughts are going into the darkness and just keep going infintely not even going anywhere. Just surrounded by complete darkness. I know that I'm insane now and I'm beginning to lose hope that there's no way out of the darkness.

Day 5:
I feel weak physically and mentally. Being in this place it makes me angry that this is how my life will end and it's worse that it has to end alone. I see a white light in front of me with a hand reaching forward towards me. I reach and grasp the outstretched hand so real, real human skin warm and full of life. But, the hand disappears into the dark abyss such as my life force has with such a cruel and unforgiving mirage.

Day 6:
With my last thoughts I can leave this world happy. I have had a lot of time to think for myself and find inner peace. Even though I'm trapped in this darkness I can find light through it all and make myself happy through this. With my last sigh I lay down and leave this world with a small smile.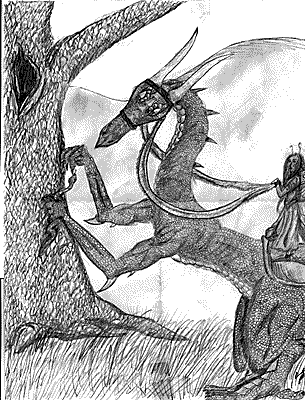 © Sandy C., New Berlin, NY