No More
January 19, 2010
I stared at a girl with light blue eyes, jet black hair which laid effortlessly over her right eye. This girl wore tight black jeans, black converse shoes and a black and white Nirvana t-shirt. Her make-up consisted of only one thing, eyeliner, which was worn in a heavy and bold way. That girl staring back was me. I pulled myself away from the mirror and headed downstairs. Only to find my parents arguing, again.


"I work all day! While I'm gone my house should be cleaned. What do you and your daughter do while I'm gone? I'll tell you what you do, nothing!" that was the speech I heard all too much from my mother, Claire finding something or everything to complain about nowadays. It hadn't always been this way.
My father became aware of my presence and gave me a look that could kill.
"She is just as much your daughter as she is mine!" My father pointed at me as if I was some unwanted item. My emotions began to overwhelm me.
"I'm standing right here! But it's not like I'm important anymore. I'm just a weapon to use while the two of you argue and I'm sick of it!" My mother looked at me with apologetic eyes. Well, that's what I thought anyway.
"Eva, was a mistake! A mistake you and I have to live with!" Those words felt like someone had cut open my chest and ripped out my heart. I felt worthless.


I silently exited the house and headed to school. I was happy to be leaving because I no longer had to deal with my parents. But the idea of having to go back home stayed in my mind. When I pulled into the schools parking lot I saw Emma and Kat talking. I could tell Kat happened to be crying. So I pushed my problems aside and focused on Kat.
"What's the matter, Kat?" I had a pretty good idea what it was. But, I was going to let her tell me before I said anything.
"It's Jordan…he's telling all of his friends we went all the way when I dated him. Now everyone thinks I sleep around!" Of course, Jordan has been known to flirt with every girl he sees. To be honest I was tired of him messing with Kat. It was time I made him stop.
"I have to do something. I'll catch you guys later." Actually I was off to find Jordan.


Like I had hoped I found him near his locker. "Jordan, I need to talk to you for a minute." He turned around and looked at me. I walked right up to him and began punching him. Not once did he punch me back. Before long three teachers came running towards us pulling me away form him. Honestly, I only one to punch him once but once I began punching him I couldn't stop. Jordan was send to the nurse's office and I was escorted to the office.


The principal, Mr. Davis, was kind enough to give me 14 days of OSS. I gathered my belongings and headed home. The only place I didn't want to go.
"What are you doing home?" My mother asked.
"Umm…I kind of got OSS for beating up on of my classmates."
"Why didn't school call me then?"
"I'm eighteen! School doesn't need to call you. So stay out of my life!"
"I'm your mother!"
"No, to me you're just the irresponsible woman who gave birth to me. Never again, will I call you my mother!"


About two hours later Clair left for work. The whole house was mine. I opened up the pantry and grabbed a bottle of whiskey for myself. Without thinking I walked straight to my car and began driving. I rolled down the car windows and began drinking the whiskey. I even put in my Sick Puppies cd and turned it all the way up. The speedometer read 60mph. Slowly I could tell my vision was blurring and it was harder to control the care. I looked at the bottle and it was almost empty.



But that was about 30 miles back down the road. Now it was becoming almost impossible to control the car. A sharp turn was right ahead. I pushed my foot down on the pedal and let go of the steering wheel. I closed my eyes and let the car go on its own. I felt my body slam into something hard. Then the car stopped. A warm tingling sensation was running down my body and pain rushed all over. My body was becoming cold when I heard sirens. Then everything stopped. I no longer heard the sirens and all the pain went away. Was I dead?


I felt nothing. I saw nothing. Until I finally heard someone call my name.
"Eva……Eva." The voice sounded familiar yet so unknown. I felt something trying to pull me back but I tried to block it away. I felt my eyes slowly open. My body was strapped down to a board. A stretcher more likely. My neck was placed in a brace. The pain was overbearing. Tears rolled down my face.
"The pain……the pain." I mumbled between sobs.
"Okay Eva…you're going to be okay." I knew that voice. It was Adam's voice. Adam was a volunteer firefighter and my best friend. I moved my eyes to the right and stared at him.
"Adam………don't leave me. I'm scared."
"I promise you…I won't leave you side." For the first time in so long I felt needed, wanted, loved?


I felt the paramedic put me into the ambulance. I heard different people talking and a machine beeping. But where was Adam? Was I alone again? Did he tell me he would never leave my side to make me feel better?
"We are losing her!" A man loudly stated.
"Eva don't give up yet!" Adam was here!
"Wait…wait…she's okay."


The pain was becoming less sever. One of the paramedic must have given me some pain medicine, which was a relief. But now my mind had a chance to race. The first thing that came to mine was my parents. How they would treat me after this whole situation was over. I didn't want to got back to them.
"I don't want to live my life anymore. I can't survive knowing my life will never change. I'm sorry, Adam. It's my time. You…were a great friend. Thank…you." I felt nothing. I heard nothing.


Suddenly I was looking down at my motionless body. The paramedics were leaning over me. I glanced toward Adam, only to find him holding my hand while tears rolled down his face.
"She's gone." The paramedic stated.
"No, Eva……I love you." Then a beautiful bright white light appeared.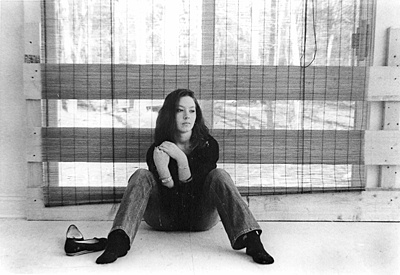 © Crystal F., Marshfield, MA