The silent Pieces of Recognition
December 27, 2009
Her name was Aria, she was 16 before her death. She was a ,A honor roll student, and she cared for her grades, worked hard to get them. She had turned 16 a month ago. And her life began to shatter, right after her father died in a car crash.

I stood, watching her fall, but I was even too blind to even see that. She always laughed things off. And smiled when she got a bad grade, saying, "I'm going to do my best on the next one." I could realize, what was in front of my two dark brown eyes, it was her, shattering, killing herself inside, with no one to help her. Even I, couldn't, because I had realized, too late, that she was the one most affected by her fathers death, even if he was precious to us. He meant so much more to her, than to us.

Her father died in a car crash coming right after work, to celebrate her birthday with her. Her mother had died when giving birth to her. And her dad was her only family. All because, her grandmother, her mom's sister, and everyone else blamed her for her mothers death, yet her father didn't. I was close to both of them, they were like, my second set of family. They were the ones who cheered for me at the bleachers when I was on the track team.

They had celebrated my birthday with me, since my family couldn't. For then, I had been of the family too, helping them through hard times, when her fathers, mother had died from a heart attack.

At the beginning of time, when I had first met Aria, I thought I had not yet found someone who I could seek secrets, and hide them. But I was dead wrong. Aria with a smile, gave me a adventure through the wonderland of life. She drove the car as I sat in the back, enjoining the ride through the land called life.

But her depression began to sink her down. Her father, died, telling her to never give up, to still keep and hold that same smile on her face. After a week of his death, Aria began to distant her self. I get now why she did it. She yelled at me, she made me feel anger towards her, all because she wanted me to not be hurt when she was gone. A thing that wasn't going to happen. The second week she stopped eating, you could see her cheek bones, that once you saw her a time ago, you would pinch them with care. Her ribs were visible. That's when I began to worry. I told my mother, but she wouldn't listen. And the third week, Aria began to smile again, I thought that she was now fine.

Dead wrong. She faked all of those smiles, knowing I was worried about her. And that week, that final Friday, she hugged me and said " I love so much. You have been a sister to me. And I will forever remember you. Thank you for everything. Goodbye." I had asked her if she was going on a trip, and she with a smile responded yeah. I understand now what she did all of those things for. She didn't want me in pain so she pushed me away. She told me that she was going on a trip, I think, that trip, is the trip to a world with her father and her mother. She killed her self that Friday. And until this day and the endless future, I will remember her, because she took me into the wonderland of life, and I thank her for it.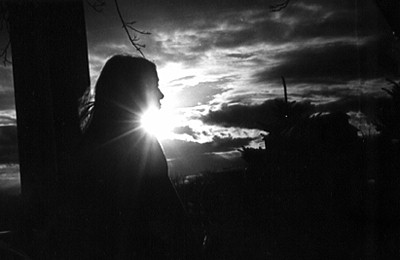 © Elizabeth G., Marblehead, MA