I'm a freak
December 27, 2009
"What a freak."
"What's wrong with her face? Ugh…"
Eyes downcast, I flipped my hair over my face and walked right pass them. My head couldn't cast out the whispered thoughts of theirs.

Why must I be so much different?

***********************

*RINGGG*
"Hand up your assignments by next Monday or you'll ge.." Madam's voice was drained by the sound of students rushing out of the classroom.
Careful not to raise any unwanted attention, my hands slowly arranged my books in a neat pile.
I didn't want to go outside, into the corridor where everybody could stare at me.
I rearranged my books as I glanced at my watch. 2.10pm. That should be enough for everybody to clear out from school.
Glancing around furtively, I grabbed my books and quietly slipped out of the classroom, to get out of this torturous nightmare I have to face each day.

Why must I be so much different?

***********************

"Oh no.. not again!"
The patches of white spots was clearly visible against my dark skin tone. Staring in the mirror, my eyes outlined the O shape of my mouth. My hands moved up, touching the smooth patches of skin – pure white – that stands out against the dark skin of my face.

Fumbling, I grabbed whichever cosmetic products I could get my hands on, applying it to
my face to make the spots less visible.

It didn't work.

************************

"Hey, what's with that girl? Her face.."
"Shhhh.. she can hear you."
"She's not exactly deaf, you know."

Trying to stop the tears from pouring out, I rushed into the bathroom in desperation. I locked myself into a cubicle, trying to muffle my cries, covering my mouth with my hands, tightly.
Tears spilled down uncontrollably and I literally slapped myself for that.

"Haha!! I saw that, you know!"
The voice startled me. It was just another student coming into the bathroom.
"So? It's not like she's going to do anything."
Another girl.
I glanced at my watch. 1.30pm. Only 30 more minutes till school's out. If I stayed here too long, they will notice I'm missing.
I struggled to regain my composure and went out.
They looked at me like I'm something they wouldn't touch with a ten-foot-pole. Hastily, I rushed past them into the open air outside.

I'm a freak.

**********************************

"What's wrong with you?! You used to be such a sweet girl."
"Yeah, well, I grew up. I'm SIXTEEN now, Mom. I HATE family gatherings. Isn't school bad enough?"
"Darling, you don't have anything to feel embarrassed for."
"Try having spots on your face – PURE WHITE spots – and if that isn't enough, what about cousin Angel? Everybody who's even in the same room as her takes a big freakin' blow on their own self esteem."
"You watch your language, young lady!"
"If you don't like it, then stop picking fights with me!"

Lying on the bed with my diary, I scribbled out all my hate and anger, like rushing water pouring out of me. Of all the people in the world, I have it.

Dear diary,

I'm a freak.

Nothing helps. I am a freak. I have Vitiligo.

************************************

The prematurely gray hair stood out amongst my health black ones.
Another symptom of Vitiligo.
I can't go anywhere. Everybody stares at my face, people think I'm middle-aged because of my gray hair.
I can't dye my hair, can't cover the spots, can't stop the spots from getting bigger and spreading all over my face.

I feel helpless, like someone drowning in the sea, the waves raging and pulling me down.

I am a freak.

************************************

She was the one who helped me go out into the world, to lift my chin up high, to ignore looks of shock and disgust, to ignore hurtful name-callings, to find my place in this world.

I'm not a freak. Not anymore.

"You have so much talent in you, you're kind and compassionate. You're dedicated to help those kids. You're a special one."
"No, I'm not."
"Don't u start again. You and I both know God blessed you with all your talents and the ability to spark smiles everywhere."

I stopped as I pondered. Maybe it is true. I'm now helping out at church with the kids. I love it and look forward to it each and every week.
Kids surround me whenever I'm there and come to me when they're troubled. They claim I'm not as scary as I thought. They could see through me, into me, not at my face.

Children are the greatest gift of God to Earth.
Pure-hearted children that don't discriminate anyone by their looks or colours.
Those that have good intentions from the bottom of their hearts when they do something for you.
Those that smiles are always ready for those who feel down.

I have always felt that I'm horribly weird, that I don't fit in this world. But now when you see the smiles on the faces of children, those who are mentally challenged, how could you not leave with a bright smile on your face?

Maybe that's why God gave me Vitiligo. That I'll stop and see that Earth is such a wonderful place.

I got a chance to know and experience what most people have missed.

A kid's smile.


I smiled as I remember how bitter I was last time.
I'm not a freak, not anymore.

Dear diary,

I'm not a freak.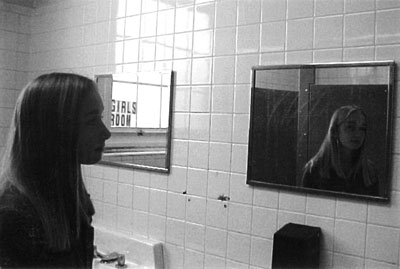 © Jill H., Pompton Plains, NJ