Dancing
January 14, 2010
Remember in sixth grade, when you asked me to our first dance? And I had Emma tell you no, because I was too shy to tell you myself. You were weird back then, and I was immature. In seventh grade, something changed between us. You understood me: you shared my perverted sense of humor, my political, almost bitter sarcasm. Although we were not best friends, you remained my kindred spirit until we left for separate high schools. I missed you; you said you missed me too. Again, we saw different things in one another. You wanted a relationship, and I still needed you as a confidant. I never noticed your affections, nor would I have returned them until Homecoming freshman year. It had been months since we had actually seen each other. You grew up, filled out, not that you were ever awkward or gangly. For the first time, we both felt the same way. Why could neither of us step up? We hid behind our excuses of going to different schools, though we never spoke the words out loud.
That summer I remember seeing you at a party. We were both drunk and I couldn't help thinking that maybe the alcohol would release our true feelings. Alas, my hopes were dashed; I should have known even our subconsciouses were too responsible for that. I gave up on my fantasies of us after that night. I left for boarding school, and you were swept to the back of my mind. Of course we still talked, but talking was just useless words unless one of us started the real conversation.
In September you asked me to your Homecoming. I was ecstatic. I hope you understand that. Too bad I had already been asked…I hadn't spoken to you until that night last month when I called you at three in the morning. Thank you for picking up the phone. I was going through a really rough time, and you helped me through it. You gave me hope again. You said to call you next time I came home. The first day I got home I left you a message; you called back the day I left again for campus. Why?
We've been dancing forever. Dancing around what neither of us wants to risk, but silently both desire.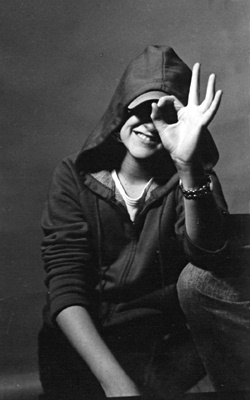 © Tori D., Marblehead, MA